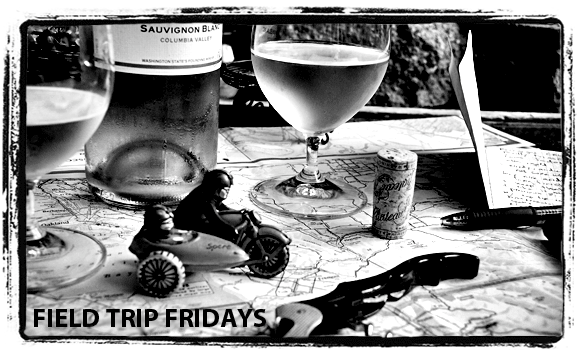 We're in Santa Cruz County for a Thanksgiving holiday mini-break…a seemingly perfect venue for Field Trip Fridays. We tasted through ten wines in about an hour and a half on a late, rainy afternoon. Our assessments are below. As usual, Her reviews tend to be a bit more serious (boring?) and His tend to use swear words (funny?).
Although we had ambitions to get up early and hit four or five tasting rooms, we, well, slept-in. It was the day after Thanksgiving…enough said. But despite not leaving the house until 3:30p, we did manage to hit two venues: Beauregard and Bonny Doon. Interestingly enough, Beauregard's tasting room is Bonny Doon's old tasting room. There is a hint of this in the skid stickers on the porch: aliens amongst the wine bottles.
We headed up the coast to Beauregard first. Driving there, we really felt like we were in a different place. The ocean was on our left for about 20 minutes before we crept up a winding road into a rainy Redwood forest. Even if the wines were to be bad, the experience was already terrific.
She had visited the site of Beauregard a dozen years ago when it was the Bonny Doon tasting room. It's a charming space that keeps the vibe of it's original purpose: an out of the way roadside dive bar. The room was packed when we arrived and oddly there were half a dozen kids milling about (including two crawling on the floor). One of them kept bumping into Him and pleading her mother to smell the soap in the bathroom.
The woman who poured our wines was efficient, but maybe too much so: her spiel was robotic. Still, it was a pleasant experience, especially for the price: just $5 to taste five wines, which is refunded on any bottle purchase. And purchase we did: we chose the very reasonably priced Santa Lucia Highlands chardonnay.
The five wines we tasted:
Chardonnay, Santa Lucia Highlands, 2006 ($12.00)

She said: Clear, pale yellow color. Light wood on nose with vanilla, lemon, and pear. Good acidity in the mouth with definite wood, but not overwhelming. Tasting Bartlett pear and Red Delicious apple. Warm, silky texture, but light bodied and refreshing. Very pleasant and a terrific value.


He said: Clear yellow color. Vanilla and oak on the nose with a little apple. The nice acid travels nicely from front to back with a long finish, and maybe a little tingling frizzante. This was my favorite of the 5 we tasted here. If I was going strictly on value I would rate this a 4, but I feel I need to reserve high ratings for completely outstanding wines. Which this was not, but it was very good.

Chardonnay, Santa Cruz Mountains, 2006 ($22.00)

She said: Warm yellow color. Nose reveals lime, citrus, tropical notes like pineapple and mango all somewhat overpowered by oak. In the mouth the wine is lush, but like SLH chard has nice acidity. Medium to heavy bodied. Peach and oak flavors…I prefer less oak, but it is a lovely wine. Of the two chards the SLH is more to my liking, but this one shows greater complexity. 


He said: Am I smelling air freshener? It has that spray air freshener smell, like a tangy lime Plug-Ins. More acid and oak than the previous chard. I usually prefer a nice oaky, creamy chard, but this one felt out of balance. Not bad, not good; I prefer the previous.

"The Lost Weekend" NV (blend: 34% sangiovese 2008, 41% merlot 2005, 25% merlot 2006; $15.00)

She said: Muddy ruby color. The nose is dirty barnyard…nothing pretty or elegant about it. Currants, smokey bacon on the palate. Mid palate is harsh but it is bright in the finish. Seems out of balance and clunky. 

He said: Cherry on the nose, heavy tannin in the mouth. Didn't really like it. I think this is also the one where the kid kept bumping me.

Pinot Noir, Bald Mountain, 2006 ($45.00)

She said: Very pale, translucent and bright ruby color. Classic bacony pinot nose with notes of cherries, and cocoa. In mouth flavors of sour cherries, an earthiness, barny, herbaceous, pine. Not as elegant or tightly wound as I wish it was, but this does make it easy drinking, although I think the palate has an undesirable heaviness. Originally rated the wine 3/5, but for this price I'm changing to:


He said: Heavy spices in the nose, cinnamon and peppery. In the mouth it is earthy, spicy again. It smells and tastes like my memories of Christmas as a child; the cooking, the fireplace and the pine tree. I have been trying to avoid reading the tasting notes provided by the bartender. After I made my notes I read "showing cola" which I totally got, maybe even root beer. I also read "hints of celery root" which I have no fucking idea what that means, I think I need to go lick some celery root. I did really like this wine, but it's not a $45 wine.

Cabernet Sauvignon, Santa Cruz Mountain, 2005 ($35.00)

She said: Dark ruby color and bright like all the previous wines. Pretty plum and dark fruit in the nose with a hint of allspice. Structure is nice and strong with serious acid and tannin…I enjoy this type of profile although it is a bit too hot in the finish, nonetheless is an elegant wine. Have to lick my teeth after each slurp.

He said: Whoa, plum. A lot, it's nice. I'm also smelling soap, maybe Irish Spring. Did that kid bring soap over here for her mom to smell or is this in the wine? I'm distracted, and I need more "practice" with reds. I was always a predominantly red drinker, but now that I am concentrating, the flavors and aromas in whites are much more familiar to me. I still can't remember what black currant tastes like. The tannin in this wine sucked my mouth dry like that thing at the dentist's office. Even 30 minutes later while driving my mouth was dry. But, I did like the wine.

We headed back down the hill and along coast, back into town. Bonny Doon's new digs are slick and huge in a new warehouse building which houses several other, smaller tasting rooms. The signage and displays look a bit contrived (Disneyland-esque?), but the space is impressive with it's flying saucer, barrel booths, and wine bottle light fixtures. And…we're huge fans of Randal Grahm. He's a witty, terrific winemaker.
Unfortunately, our experience in the tasting room wasn't that great. We came through town a few months ago and really enjoyed our time here, but on this trip we had an overly hovering wine steward. After each pour she just stood there staring at us…no dialog, no story about the wine, no questions about our opinion on the wines… just an uncomfortable stare. Creepy even.
Bonny Doon's tasting fee is $7 for five wines, refunded with a wine purchase over $35. We didn't buy any wine this time around. And the steward didn't push it…she just stared.
The five wines we tasted:
Orange Muscat, Ca' del Sol, 2007 ($17.00)

She said: Mmm… made no notes? What I remember: citrus nose, residual sugar, flabby, not my thing. 


He said: Very floral on the nose, even potpourri. Orange, obviously. Not so much acid and kind of tastes like an orange Starburst.  I actually really like this, and I didn't think I would.
"Metamorphosis I Aurora," Eclectic White Cuvée, 2007 (blend: viognier, loureiro, treixadura; $22.00)

She said: Warm, light yellow color. Honeyed, warm nose with tropical fruit. Zingy in the mouth, but also very rich with peach and apricot flavors. Nice balance between the lush fruit, wood, and acid. Very enjoyable if uncomplicated…which also makes it overpriced. 


He said: A lot of apricot in the nose along with citrus and butter. More apricot in the mouth with a nice acid throughout. I feel a bit insecure with the pourer staring at me while I make my notes. Kindly go away until I'm done.
Sangiovese, San Benito County, 2006 (blend: 77% sangiovese, 16% freisa, 6% syrah, 1% grenache; $12.00)

She said: Darkish ruby color. The nose is gamey, funky, dirty. Mouth continues this trend…very brambly but also with sour cherries and herbs. Has high acid and tannin in the mouth, showing tons of structure. Enjoy the movement from funk to astringency. Priced well.

He said: Black cherry and earthy/dirty aroma. Also, smells like a wet dog after a bath, and I mean that in a good way. Very dry and chalky in my mouth, like a black cherry Flintstone's vitamin. Tannic with a lot of acid in the finish.

Le Cigare Volant, Red Rhone Blend, 2004 (blend: 38% grenache, 35% syrah, 12% mourvedre, 8% carignane, 7% cinsault; $30.00)

She said: Opaque, dark ruby color. Nose reveals dark fruit, black licorice, currants. High acid and tannin in the mouth. Like the Sangiovese it is tightly wound and has an appealing duality of dark and light notes. Would have been nice with Thanksgiving dinner.

He said: Hard for me to wrap my nose around this one.. earthy? peppery? I didn't make very good notes, I think I was getting tired.

Angel Paille, 2007 ($20.00)

She said: Golden yellow, viscous texture. Floral nose with almond and peach notes. Disappointing in the mouth: utter lack of acid to balance all the richness of the ripe fruit, making it too sweet. That said, it is a nice ending after tasting the tight, tannic reds. But not my style of dessert wine…I like apricot, not honey. 


He said: Peaches on the nose, honey and marmalade in the mouth. I think this is the second time I have had a dessert wine (the first was this same wine at this same place a few months ago). It's kind of gross, I can't imagine really wanting to drink this. I won't give up on dessert wines, but maybe these just aren't for me. 

(Bonny Doon photo via SFwineblog.)