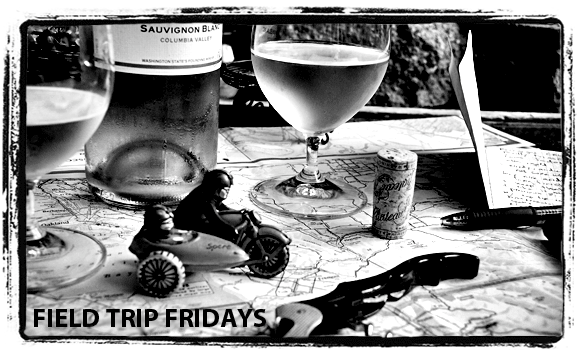 Sometimes Field Trip Fridays last the whole weekend..We've just returned from a lazy, hazy, boozy three days in the desert oasis of Palm Springs.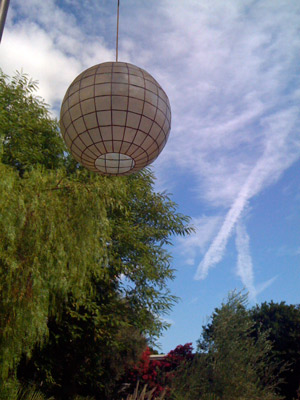 Our intentions (beyond relaxing in the sun and checking out all the Mid-Century Modern goodness) was to continue The Wine Education, but, it turns out, Palm Springs wasn't a wine destination for Us.
Parched and hungry from the drive (wonderfully close, under two hours), our first stop was The Parker, a swanky, kitschy hotel just down the road from where We were staying. What to drink? The wine list offered at Norma's, the hotel's daytime dining spot, was tiny and uneventful.
Our choices limited, it was a mimosa for Him, Bloody Mary for me. The Bloody was spicy and delicious. The mimosa, not so much. The oj appeared to be from concentrate and the bubbly had a dull, indistinguishable flavor–our guess was an inexpensive Cava or Prosecco. The lunch itself was lovely and large. I asked to take my half eaten Lox and Bagel plate with me and was very disappointed to later discover they had only included the bagel–what's the point of that?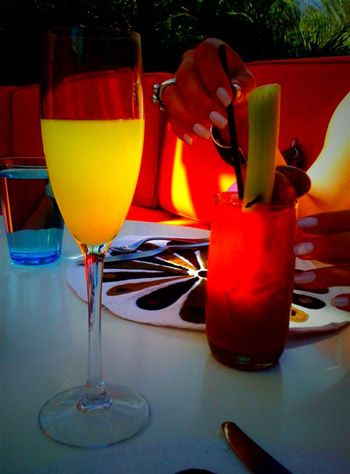 Surprised that a reputable boutique hotel would have such a mediocre wine list, I later looked up that of  their fine dining restaurant. I was delighted to see they had an excellent, somewhat eclectic selection. Was it not available at Norma's?
Although the mimosa was middling, We were in good spirits–who cares, it was vacation. We drove down the road and checked into our hotel and were instantly charmed by The Ace. We surveyed our retro-camping-army/navy-chic room, unpacked, and headed out. He had read about a wine shop downtown that was supposed to be good–we needed supplies.
PS Wine gets positive, three and four star reviews on Yelp, but We found it dark and depressing. The wine selection was nice (included some favorite California producers like Paul Hobbs and Patz and Hall), but the sports on tv, upended tables and chairs, and bizarre displays (like the Cupcake Vineyards rack featuring a gigantic plastic cupcake) turned Us off. We politely browsed and then got back out into the Palm Springs sunshine.
Next stop: a liquor store. We decided to follow Julia Child's advice who, when asked what was her favorite wine, replied "gin." It was a big bottle of Tanqueray Rangpur for Us. A bartender told me once it was gin for beginners, but I love its limey and smooth flavors.
We drove around a bit and then got back to the hotel for some relaxing and gin drinking, poolside. The sun went down, the temperature cooled and We opted for dinner in our cool room–delicious burgers while watching the Lakers (sadly) lose a basketball game.
The next day We planned our architecture and design tour over breakfast at a popular spot downtown: Pinocchio's. The place is lively, loud, and friendly. We recognized several (and equally hungover) fellow Ace Hotel-ers. And…Hello, what's this: $3.95 bottomless "Champagne." I mixed my "fresh squeezed" from concentrate grapefruit juice into the overly sweet Wycliffe sparkling wine and had a few palatable glasses from the screwcap bottle.
Breakfast itself is basic diner fair. Nothing fancy, just good.
After breakfast We had a terrific self-guided architecture tour of the city. (See the pictures posted at our design site's blog.)
We got back to hotel mid-afternoon for more poolside lounging (and gin and naps). Then it was time to clean up (what, oh what to wear– yes all those choices and for our two night stay).
We were off to Viceroy, another sweet boutique hotel, for dinner. This time We planned on ordering a nice bottle of wine. But again We we're not wowed by the selection, especially since they were out of our first two choices. We settled on a bottle of Casa LaPostelle Merlot from Chile. We did not take notes, We did argue about Mid-Century Modern architecture and wolf down our delicious meal.
The next morning came too soon. We turned on some football and hastily packed. For breakfast it was The Ace's own King's Hwy, which looks like a fancy Howard Johnson's (which it actually was) with way better fare. We drank water. After the great meal We hit the road and headed back to the normal daily slice of paradise in Silverlake. It was a terrific trip. Next time we'll try harder on The Wine Education. And there is definitely going to be a next time. Very soon.
(A Post Script: Coincidently NotCot was staying a few doors down from us…she has some great pictures of The Ace on her site. Check them out.)