He hasn't touched the quiz. It's just sitting there, kind of crumpled, languishing on the chair. Be brave. You can do it.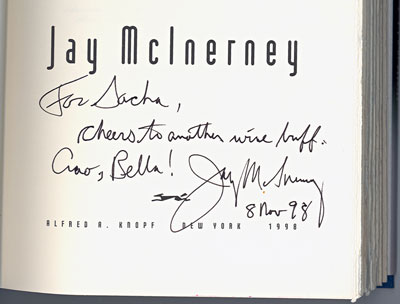 He's not totally slacking though: He's been reading Jay McInerney's Bacchus and Me: Adventures in the Wine Cellar
, I book I greatly enjoyed myself. And not just because I've had a crush on Jay since like 1988. Well, that's part of the reason. In fact, he is the only reason I subscribed to House and Garden; the wine column was so good. And that cute little picture of Jay that accompanied it… Damn I miss it (the column–I have a picture of him). And I told him so when I went to a book signing for The Good Life
. Held up the queue a bit, but it was worth it. And I swear he winked at me.