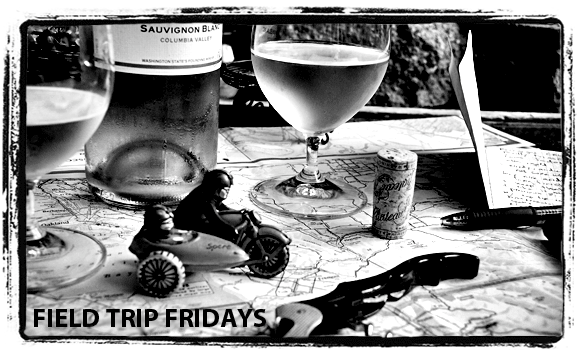 This week on Wine Web Wednesdays He wrote, "There are a lot of things I hate about Twitter…" but here is something We love about it: connecting with people like Erika Kerekes. We've been following her for a while on Twitter (and you should too) and were intrigued by a tweet she posted a couple of weeks ago:

Hell yeah, We do…
A few DM's later and We got ourselves an invitation to a tasting at Pourtal, a wine bar we had been reading about in Santa Monica. Their by the glass program that involved a fancy "enomatic" machine that kept bottles fresh and allowed tasters to try rare, unusual, and expensive wines (along with more common, reasonably priced wines) by the ounce intrigued us. Dominus? By the glass. Oh yeah, we're there.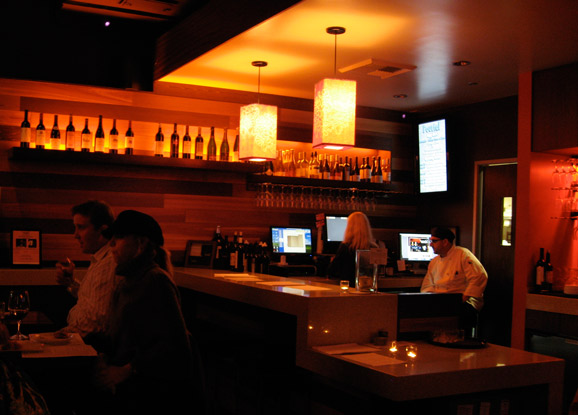 Our date was set for Janurary 26th. It was a rather gloomy, rainy night but we braved the traffic from Her lovely Silverlake pad to the Westside. We arrived a bit early and felt haggard from the drive, so it was very nice to walk into such an inviting, warm spot with a friendly host.
The bubbly demeanor of the bartender inspired us to have a glass of Champagne and a few snacks before Erika arrived. The Rare Wine Company's "Le Mensil" Champagne was gorgeous and a rarity to see on a wine list. It paired incredibly well with the creamy, rich burrata and stuffed grape leaves we chose from their menu. The rich snacks complimented the yeasty yet refreshing wine.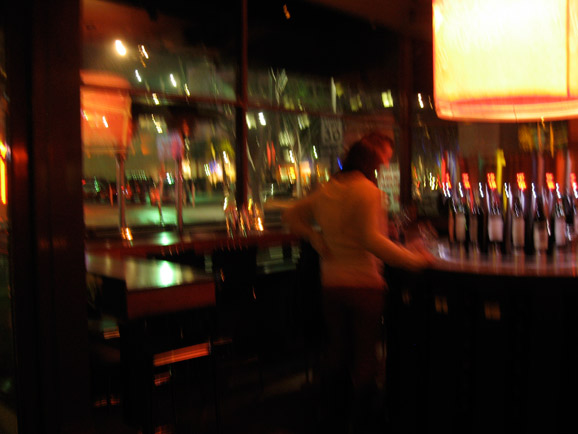 Every time the door to Pourtal would swing open, we stared…was it Erika? Having only exchanged a few tweets and messages, we weren't sure if we'd recognize her just from her avatar. It had been a couple of weeks since we had set the tasting date, and she admitted:

Luckily for us all, the place wasn't too crowded, so when she arrived we took our last gulps of the tasty Le Mesnil and walked over to make our introductions (and exchange names). Erika is a delight and easy to talk to (which may explain why We did so much of it). We exchanged our backgrounds in food and wine and then got down to what we were there for: tasting wine.
The night's theme was Zinology, consisting of a zinfandel, and, as the very knowledgeable wine steward Helena explained, two of their close "couzins:" primitivo and palvac mali. It would be an old world/new world slurping session matched with some house made treats. Helena guided through the tasting with a short spiel before each tasting.
Our new friend asked us, out of earshot of Helena, if We could tell if a wine "expert" was bullshitting. (Although Erika might not have used that term.) She replied "yes…usually I know at least something about what is being tasted or the region that I can tell when they are using the right or wrong language." He admitted that He didn't know enough about wine to know if they were bullshitting or not, "…but I can read bullshit pretty well." She assured them both that Helena was right on the money and the bonus was that she presented the information in such a non-pretentious, friendly, and easy to understand way.
Our notes from the tasting are below. She had explained to Erika the rules We have been following when tasting: make note of the color, swirl the wine and take some deep sniffs, slurp, swallow, and savor…and no talking. Wait a few moments and then compare notes. In general we followed this method.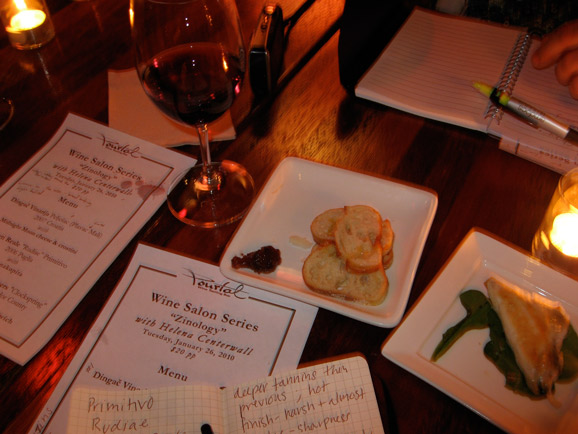 Plavac Mali, "Peljesac Peninsula," Dingac Winery, 2007 (Croatia)

She said: Translucent around the edges, slight brown tinge. On the nose: licorice, tar, some kind of spice like allspice/nutmeg, and brambly earthy notes. Soft, medium tannins in the mouth. Earthiness but not many berry or other fruit flavors. Would not guess the wine was zinfandel related. Whole mouthfeel is soft and pleasant, uncomplicated. Paired with Cypress Hill goat cheese which was dried and slightly crystallized. Nice pairing. The cheese added richness to the wine. Found it amusing the front label declares in prominent type: "Quality Dry Red Wines."


He said: Translucent and watery around the perimeter, no idea what color; it's dark, and to repeat, I'm colorblind. Right away there is licorice on the nose, followed by baking bread, earth, and that smell you get when opening a bag of balloons. Very light bodied in the mouth and dirty, in a good way. Light to medium tannins. A little heat in the finish with a short aftertaste. Easy and uncomplicated, nice with the cheese. Wouldn't necessarily serve it, but would definitely drink it.

Primitivo, "Rudiae," Vigneti Reale, 2006 (Pulgia)

She said: Dark, purplish red. Nose reveals dark red berries, raspberries, cassis, tar, licorice. Definitely smelling more like a zinfandel. In the mouth there is a kind of heaviness on the palate. Hints of white pepper, medium high tannins. Flavors of cassis, dark fruits, prunes. The finish is hot and a bit sharp and acidic. Bottle reveals it is over 14% alcohol. Overall a very drinkable wine with some umpf. Matches surprisingly well with the spanakopita, but that's probably because the spinach has been baked with so much butter and really nice not too salty feta. They make the cheese in house, we were told. Could have just a couple of hunks of it with the wine.


He said: Guess what? I don't know the color, and didn't note it so I may have not even tried. On the nose is black cherry, blackberry and what I think is some kind of creamy pastry; smells like Paris. Much more fruit than the previous wine. The nose gives no hint of the pepper and spice in the mouth. And, this will get you drunk: 14% alcohol. Hello. Light tannins and spice, spice, spice… I like it. 

Zinfandel, "Clockspring," Mountain View Vintners, 2006 (Amador County)

She said: Deep, opaque red purple color. Similar nose to the previous wine: cassis, tar, licorice, dark berries. Really big mouthfeel; a bit cloying and syrupy. Spice, pepper, root beer flavors. Medium to high tannin. Lingering finish of Cassis and licorice. A bit to big, rich, and candy like for my taste. Matched with a delicious pork belly sandwich that had hints of orange. Good pairing, again.

He said: No color again, get used to it. Cherry on the nose with light licorice. This wine is more elusive than the last one; but maybe that's just because the last one got me kind of drunk. Maybe a little yeast on the nose here too. It's very creamy in the mouth, like cream soda. And peppery, like Dr. Pepper. The pork belly sandwich was great. This was my least favorite of the night, but it was still good.

Sipping our last drops of wine, Helena brought out some small vials to test our smelling capabilities. For the first round we both got 3 of 4 right, but failed miserably on the second round; 0 of 4. The power of suggestion is just that: powerful. On the first round three of the scents had been mentioned at some point during our tasting. The second round consisted of smells that were nothing like the wines we tasted. It was challenging and very fun. Where do you buy those little vials of smell? We want some.
We all had a terrific, tasty time.
Thank you to Helena for being our educator for the evening. And thank you Pourtal: We loved it. Everyone was warm and welcoming (and it actually seemed sincere), both food and wine were tasty. We will be back; it's a very good reason for us to venture to the Westside. Cheers.
And a special thanks to Erika for this invitation…and a promise for another one:

Our reply: Hell yeah. We'll bring bottles.