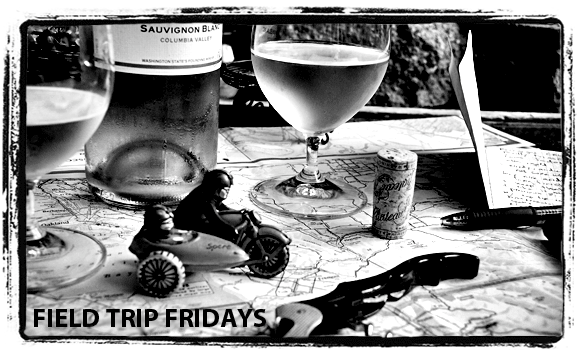 Here is a recollection of everywhere we ate on our road-trip to and from Texas. It's long, I know, but we ate a lot. For lunch we usually ate sandwiches or
fruit & veggies from the cooler in our backseat. We didn't want to eat crappy road food on our long drives so we stocked up at Whole Foods. I really recommend this over eating gross fast food and gas station junk. And it was cute watching Her make us sandwiches in the front seat. At night we treated ourselves to a good dinner. Bon Apetit!
Butterfieds Stage Co Steak House.  Holbrook, Arizona.
This was our first stop for food, a steakhouse a block away from our wigwam. The decor is "heroes and villains of the Wild West" (which would be a perfect precursor to a few things we would see in subsequent days). A nice steak sounds great after a long day of driving, and so does a Maker's Mark to warm us up, it's 25º outside. She ordered a T-Bone with a baked potato and cole slaw and I had a Porterhouse with mashed potatoes and I don't remember. The meal and service were just fine. The big problem in my head was that we had been listening to The Omnivore's Dilemma on CD, and this really isn't the kind of place to have "Niman Ranch" written on the menu. I am trying to eat only grass-fed beef, but let's just say mostly instead of only. Butterfields is a little overpriced for what it is, I think we paid $75 for our 2 steaks and whiskey's.
Café Pasqual's. Santa Fe, New Mexico.
This place is why Yelp is such a good thing. Neither of us had any idea where to eat in Santa Fe, and went here purely because of the reviews on the site. We are very happy we did. We already wrote about our experience here in detail, so I won't rehash  it. All I will say is that if you are in Santa Fe, go to Pasqual's. But make a reservation, this place gets packed.
The Kettle. Childress,Texas.
We got into Childress at 8:30PM and noticed a few steakhouses and a lot of fast food chains. After checking into our hotel we decided to head to one of the steakhouses. Uh-oh, it's 9PM and everything in Childress is closed, except for McDonald's, Sonic and The Kettle. We chose the lesser of 3 evils and walked into the Kettle, filled with truckers and some rough looking locals. She ordered the Catfish and I got Biscuits & Gravy. The place was kind of dirty and gross, so we took our food to go and ate in our hotel room. My B&G were disgusting so I could only imagine how bad her Catfish was. Imagine my surprise when She proclaimed that She actually liked it. Get to Childress early, the town closes at 9.
Hannah's. Denton, Texas.
I had eaten at Hannah's about 8 or 9 years ago and remembered it as a very nice restaurant in a quaint little space on the square in Denton. Time has changed part of that; Hannah's has moved into a very large space. Denton is a great town for music (2nd only to Austin as Texas' musical epicenter) and home to 2 major universities. [Sidenote: If you haven't listened to Will Johnson & Centro-matic, check them out]. It's nice to see a "fine dining" restaurant thrive in this little college town. After a long drive on remote roads, we sat outside (73º, but it would snow the next day) and She had a glass of Pine Ridge viognier/chenin blanc blend, while I had a glass of Château Bonnet Bordeaux blanc. We shared a few tasty small plates and ordered a bottle of the Château Bonnet.
Dragonfly. Dallas, Texas.
I had read about the Dragonfly for a couple of years and when our free Trolley rolled by, I was excited to go in. Unfortunately, our experience here would foreshadow a spate of terrible service that would (mostly) haunt us for the rest of our trip. To put it bluntly, the bartender was an inattentive bitch. A note to all waiters and bartenders: you work on tips, and if I am (over)paying for food & wine, the least you can do is feign good hospitality. We thought our experience would improve when a second bartender arrived, but it didn't. Combined with the very loud cursing drunk guy at the bar (it was like 4:30PM), I couldn't wait to get out of this place. We drank our glasses of red wine as fast as we could and got the hell out of this place. I really hate complaining about service, but this was really, really bad. We left without eating. Suck it, Dragonfly.
The Idle Rich Pub. Dallas, Texas.
We walked a couple of blocks after leaving the Dragonfly and stumbled upon this place with a name we both loved and aspire to. We sat at the bar and were greeted by smiling, knowledgeable bartenders who had food and whiskey recommendations. She ordered a Mark West Pinot and I had a Redbreast Irish whiskey. Our early dinner was a smoked salmon salad for Her and truly great fish & chips for me. According to Yelp, this place gets filled with obnoxious fratboys on Friday and Saturday nights, but our experience was quiet and lovely. And they were playing Wilco.
Charlie Palmer at the Joule. Dallas, Texas.
Already went into detail about this place too. We totally enjoyed out time at The Joule, but by this point we may have to sell all of our belongings to pay for our food & wine adventures.
Churchill's. McKinney, Texas.
I frequent this place when I stay in McKinney, a good place to get a drink, and shoot some darts and pool. It used to be called The Londoner, which I think is a far superior name, but oh well. The fish & chips are just fine, though nothing to blog home about. The highlight was having a cigarette out front in the snow when a drunk, limping cowboy joined us and told us a story: Two nights prior he had accidentally left his shotgun in his truck, and while drunkenly going to retrieve it he slipped on a patch of ice and shot a hole in his truck. Hence, the limp. A note to all the children out there: If you accidentally leave your shotgun in your truck while you are wasted, watch out for ice. A note to everyone else: watch out for drunk cowboys carrying guns in the suburbs.
Delaney's. Mckinney, Texas.
Not much to say about this gigantic place in a strip mall in the suburbs. It's exactly what you expect, but a damn good place to have a drink and watch football on the 14 large plasma screens throughout. Highlight: they are open on Christmas.
Big Tony's. Mckinney, Texas.
My dad took us to this dive bar for pizza. The pizza is really good, thanks Dad.
Café Malaga. McKinney, Texas.
My mom took us here on our last day in Dallas. I had been in this space before (2 owners prior), and it is a great old building just off the square in McKinney. We ordered tapas for the table and a bottle of tempranillo. It was snowing hard outside, and the food and wine were both lovely. One complaint: server dude, learn how to open a bottle of wine. You must first cut the foil. Our bottle had an aluminum Bart Simpson haircut when he placed it on the table.
Uchi. Austin, Texas.
She had eaten here a couple of times before and raved about it. We sat at the bar and had very great, attentive sushi chefs taking care of us. We enjoyed 2 bottles of 2008 Huber 'obere steigen' grüner veltliner while we ate almost the entire menu, we must have had a whole bluefish tuna. By the time our dessert (jizake creme caramel with brown butter sorbet and ginger consomme) arrived we were both pretty drunk. That's when I tried to steal the menu. It was a nicely designed corkboard book, and for whatever reason, I really wanted it. As I mentioned, we were sitting directly in front of 2 chefs, but also right by the service door to the kitchen; not exactly a dark corner. I thought I was being sly trying to stuff a large menu up my sweater. The waitress came by, gave me a strange look, and I removed the menu from my sweater with an embarrassed smile. She politely told me I could take the paper out of the book, but please leave the cover. Fair enough. Oh yeah, we loved this place, the best sushi we have ever had.
Maiya's. Marfa, Texas
The hotel attendant at the Thunderbird recommended Maiya's and got us a reservation. We arrived early, assuming we could get a seat at the bar. As we walked in a couple were leaving the bar, and we were told that we could sit there and they would clear it for us right away. 10 minutes later the remnants of food on plates was still in front of us while we watched the bartender fumble and attend to everything, except the customers sitting at the bar. Seriously, change the paper in the POS system after you clear these plates and take our drink order (or ask the host who is just standing there to do it for you). More on this later. The space is great, minimalist (duh) and clean, the square wreath on the door was a nice, thoughtful touch. When we finally ordered our drinks we both had Hendrick's on the rocks (hers with a splash of tonic). We started with the Antipasto Plate and Black-eyed Pea soup, a southern New Year's good luck tradition, both were excellent. For dinner, She had the Grilled Rib Eye Steak with red skinned mashed potatoes and I had Pasta Bolognese. Our meal was unbelievably good, one of the best of our trip. I ate all of my pasta and probably half
of Her delicious, tender, perfectly cooked steak. It's just…this…damn bartender. Doing dishes while our glasses have been empty for minutes. Attending to his servers before his bar patrons; dude, we are tipping you more than they are, I guarantee it. We weren't alone in our dismay, we could see it on other customers faces. And we watched as twice he delivered the wrong plates to the wrong people (there was no more than 8 of us at the bar). When he did come over to us, he would say that "it would just be a minute," "they weren't used to this rush," and a million other excuses. There are not more than 50 seats in the restaurant, and they had 2 servers, a host, and a bartender. It wasn't exceptionally busy, and the amount of time we were made to wait and the inane excuses are unacceptable. Luckily for Maiya's their food is exceptionally good. We totally 100% recommend this place, but that bartender (and his dumb toddler tie) has to go.
Jett's Grill. Marfa, Texas.
Conveniently located in the Paisano Hotel, our lodging for the night. We began with 2 glasses of "Marfa Red" while we perused the menu. The decor was strange, highlighting the fact that until a few years ago, this hotel was in disrepair. We started with a caesar salad. For dinner She ordered Shrimp Alfredo and (against my better judgment and lack of Tums) I ordered the Pistachio Fried Steak with Jalapeno Gravy, way too intriguing for me to pass up. After enjoying our "Marfa Reds" we ordered a bottle of New Zealand Sauvignon Blanc. It did take a very long time for our food to come out, but we were happy and in no hurry, so no complaints. When it arrived, I was overwhelmed by how large the steak was and the fact that there were whole pistachios fried onto the steak, looking like little barnacles on a whale. It was actually quite tasty, but I could only eat about 1/3 of it. Her shrimp alfredo was fine, if a bit mediocre. After we finished, the waitress came over and apologized for taking an hour (was it really that long?!) for us to get our food and that the bottle of wine would be comped. That was very nice, and though we really had no complaints, that is the way you make up for poor service. She should speak to that bartender at Maiya's.
Café BellaLuca. Truth or Consequences, New Mexico.
Before our soak in the healing waters, we wanted to grab a bite in little T or C. All of our guidebooks and websites we read raved about this surprising little place. It is so great to find a spot like this in what is really the middle of nowhere. After all the fast food chains we passed, for there to be an alternative for the citizens and visitors alike, is refreshing. But, oh no, the server has already messed up our salads. There are a total of 8 customers in the restaurant right now. When it was corrected, our Capri Salad and our Arugula Salad were both fresh, vibrant and delicious. Tonight She ordered the White Calzone (roasted garlic sauce, three cheese blend, spinach) and this time I had the Shrimp Alfredo. Both of our meals were great. The shrimp were huge and meaty and the calzone (which I finished off) was better than any calzone I can remember (though, admittedly, I can't really remember many calzones). With our meal, we drank a 2007 Sauvion Sancerre. Everything was delicious, but when we were finished we sat for 10 minutes before having to track down our server at the POS station to pay our bill. I'm tired of complaining about service, but the food was excellent.
Nancy's Silver Café. Silver City, New Mexico.
There aren't a lot of choices in this weird little place (Vicki's is out of business, and 1zero6 isn't open for lunch). We stumbled upon Nancy's because it was the first place we saw open. The service was prompt, but a strange and a little mean even; a lot of grunting and throwing plates down. We both had a combination plate of enchiladas, a taco, and the best chile relleno I have ever had. This is really just a hole in the wall place, but they serve excellent traditional mexican food. A highlight was introducing her to the sopaipilla, which She had never heard of and I ate tons of as a child. I used to love these little honey-filled fried pastries, and they are still tasty, I just try to eat a little healthier these days. As we were walking away I said to Her, "I don't think they liked us very much." A couple of days later when we got home, I read some reviews of Nancy's that said the staff is "racist" and "gringos not welcome." I really don't think it was a race thing, there were plenty of white locals chatting and laughing it up with the staff. I think maybe Nancy's dislikes tourists. I don't know, but the food was good and I have enough friends.
Kazimierz. Scottsdale, Arizona.
She writes about it in depth here. This place has the craziest wine list I've ever seen. 3200 wines! Perusing the list is like trying to read Homer in the dark, but, you know, fun. Aside from the wine, Margo Reed was the highlight here. What a singing voice on a little woman with a somewhat froggy speaking voice. My favorite is when she talks to the audience she ends with "Okie Dokie? (beat) Okie Dokie Fine." We had a really nice night here.
Amapola Café. Blythe, California.
Our final stop before we get home. Amapola is situated in front of a dilapidated motel on the main street in Blythe. The sign out front reads "Since 1950." Wow. She had another sort of combo plate and I had a chimichanga, both paired with Diet Cokes. I am so tired of writing this very long post that I will cut to the chase: the food ain't bad and it's a nice stop between Phoenix and LA.
And the winner is….. Uchi. Hands down, the place we both enjoyed the most. Amazing Sushi, great service. If you are in Austin don't miss it. Oh, and sorry about trying to steal the menu, it won't happen again. I really hope I'm not banned.