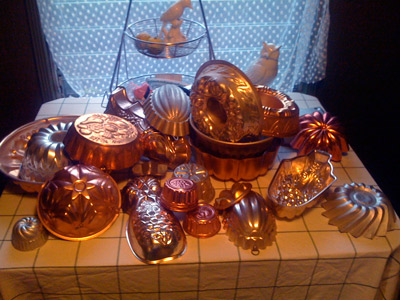 We've spent the last week moving Her into new digs in Hollywood, an arduous but also satisfying task: the place is effing awesome. But by the end of a day of lugging and unpacking boxes (including two labeled "jello molds") the last thing either one of Us have been in the mood to do is cook. But of course We're always in the mood to drink wine.
We've picked up some nice, inexpensive bottles at a couple of Her newly local shops: hands down our favorite new spot, Locali, and across the street in the competing mini mall, the newly opened Oaks Gourmet Market. (An aside by Her: the word "gourmet" in the name of a store turns me off because of it's inherent snobbishness, but We've found the liquor and food selections terrific, the staff friendly, and the prices on par with or just slightly higher than other places.)
We've also scouted the neighborhood for a new "corner" liquor store to supplement our Big Mac's Mondays series. Hello, Pla-Boy Liquor: you are our winner. Soon we'll be supplementing our smokes and gin purchases with a bottle of wine.
While we've taken care of the booze part of the post-moving evenings (priorities), We've left dinner to others: pizza delivery, sushi delivery, sandwich delivery, chicken and ribs delivery, etc. But the best meal We've had delivered thus far was from our friends David and Melanie last night. They graciously offered to bring dinner and arrived with a delicious, fragrant cauliflower tart and fresh from their garden herb salad. The night seemed perfect to open our second favorite delivery of the week: a box of 4 bottles from Erath. (Actually, as He aptly pointed out in His post a few days ago, there were two packages at the door that day–unfortunately for Her the foxy FedEx man was not around to share a bottle of wine with Us.)
The four of us swirled, smelled, and slurped greedily from our glasses of two of Erath's single vineyard pinot noirs. We explained to our friends the wines were samples sent by the winery, something We were both thrilled about (free wine!) and nervous about (what if they suck?)
Pinot Noir, Prince Hill, Erath 2006 (provided as a sample, winery price: $45)

She said: Very beautiful nose: dark cherries and Knott's Berry Farm jam, with a little hint of spice. Lush and perfumey in the nose, sensations that continue on the palate. A truly voluptuous mouthfeel: soft, creamy, rich. Very fruit forward (dark cherries and berry jam again) and ready to drink now. The structure, acid, tannin could all be stronger, but the wine is beautiful. A total crowd-pleaser. score:


He said: This smells really good. So creamy in the mouth. All fruit with a hint of spice. Drank very well with the tart and the cupcakes we had for dessert. Not really feeling a lot of tannins, but the creaminess and flavor make up for that. I would and will buy another bottle of this.

Pinot Noir, Leland, Erath 2006 (provided as a sample, winery price: $50)

She said: Another beautiful nose, this time heavy doses of cocoa and cola with dark cherry fruit. More refined in the mouth than the Prince Hill because of a touch of acid that gives it some backbone, but again very lush and voluptuous. This is another very pretty, feminine wine; downright sexy. Long cherry cola finish with mild tannin. Of the two pinots, this is my favorite. A delight. score:


He said: Cherry coke on the nose. This one feels lighter in the mouth than the previous. More acidic and less creamy. All cherry and cola and fruit-forward. A very good wine indeed, but I like the creaminess of the previous one more.

Phew. Thankfully, we really enjoyed the wine. As did our dinner guests.
Erath also sent us a Pinot Gris, which we drank with CW, chef-owner Canelé, while we discussed our cooking debut at the restaurant on February 23 (join us there Tuesday–it's going to be a great, tasty night). We all agreed that the wine was a little shy in texture and acid, but had really nice tropical fruit flavors. All in all, this was a very good batch of wines. We, and our friends greatly enjoyed them.
And We aren't just saying that because they were our first samples and We were excited by that. We promise.