Perusing our "stolen" copy of Wine Spectator, we noticed editor picks and reviews of highly rated bargain wines. We decided to find as many of these and compare our notes with those of WS.
First off, it was difficult to find the wines. We avoided our local boutique wine shops in favor of liquor and grocery stores, assuming these would be pretty mainstream bottles and easier to find at these types of retailers. As it turns out, it took us three stores to find only three of the wines listed. It seems like wines being featured in such a huge magazine would make wine buyers for these retail chains take notice and stock these bottles. Right?
We took our three selections up to the cabana, by the fire, and out of the way of the looming rain.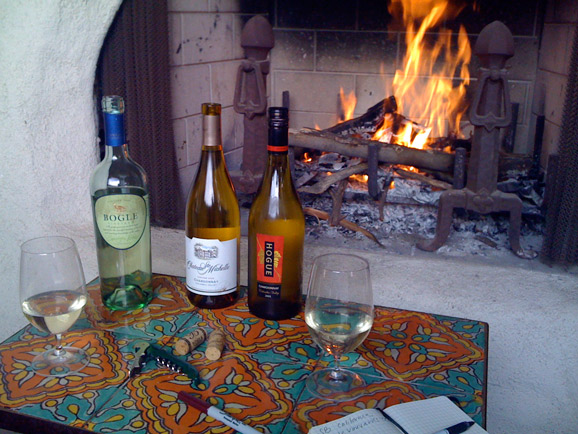 Sauvignon Blanc, Bogle Vineyards, 2008 (California, $11.49)
Wine Spectator said: Mouthwatering and intense, with grass, lemon-lime and green papaya flavors that are highlighted by a zingy acidity. This has great intensity, with a silky finish. Drink now. Rating 88

She said: Very pale and translucent, yellow/green color. Nose is immediately hit with lime peel, gooseberry, and lychee. Also lots of acid: smells active and fresh, if a bit bracing. In the mouth limes, lychee, grapefruit, and a bit of grass. Tastes like Spring. Whew–the wine needs something spicy or sushi or some kind of food to pair with it. Enjoyable and very reasonably priced. Not very refined or elegant, but intense. A long, quenching finish. Would be great with that avocado and citrus salad we had at Canelé the other night. 


He said: Very translucent and watery in appearance. Lemon, lime, citrus on the nose. Smells crisp, clean and good. There is a little heat in the nose too. My first sip was a little disappointing, not as crisp an SB as I prefer. Subsequent sips prove crisper and the acidity is showing up. Lingers in the mouth for quite a while. I don't really love or hate it, it's an average-to-good drinkable wine. I will definitely finish the bottle.

Chardonnay, Columbia Valley, Château Ste. Michelle, 2008 (Washington, $11.49)
Wine Spectator said: Bright and jazzy, with pretty pineapple, grapefruit, elderflower and spice flavors that linger on the finish without excess weight. This just floats on for a while. Drink now through 2012. Rating 90

She said: Golden hue. Swirl shows viscous texture. In nose: butter, wood, butterscotch, lemon curd, burnt orange peel. Rich and full on the palate. Honey, buttered popcorn, creme brulée. There is a heaviness at the beginning and then right before the swallow there is a harshness. The citrus flavors are not bright, but rather cooked or like custard. High in alcohol. Not my style, but the wine is fine, smooth, and silky. Like the Bogle we tasted, think this wine needs food to take off some of the rough edges. Would pair with trout almondine or monkfish with a cream sauce. score:


He said: Why am I smelling an herbaceous smoked turkey sandwich? Is this the wine? Wait, the fire in our "tasting room" is beginning to smoke. Ok, back to it. Golden and shiny with a little cloudiness. All butter, butterscotch and wood on the nose. Soft and big in the mouth (that's what she…) and more butterscotch. The bottle text proclaims "subtle oak" but I don't think it's so subtle. I really like it, this is what I imagine a big, oaked chardonnay to taste like. And it has the creaminess I like.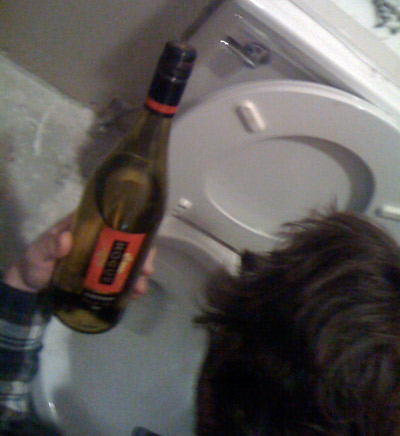 Chardonnay, Columbia Valley, Hogue, 2008 (Washington, $13.99)
Wine Spectator said: Bright in flavor and silky in texture, with creamy pear and apricot flavors that linger on the refined finish. Holds on nicely Drink now through 2012. Rating 89

She said: Whoa, so much wood and yuk on the nose…can barely go back for another sniff. Really smells terrible and I would say it was corked, but it's a screwcap. Very golden color. In the mouth the wine is all wood and butter with a touch/kick of acid at the finish. The flavors in the mouth are much more pleasant than the nose. Butterscotch and some orange, and vanilla bean in the finish. I actually like the way it tastes, but it smells awful. In comparison to the Chateau Ste. Michele the flavors are more clean and fresh, but also shows an intensity. Again would pair with fish in cream sauce or even clam chowder. The stink on the nose is hard to take, but I like the mouthfeel and flavors…makes the wine very hard to rate.   score:


He said: Oh, gross. Smells like compost. I can't pinpoint anything because I can't keep it by my nose long enough. I would think it's corked, but it's a screwcap. It has the equivalent smell to the sound of the word "hogue." Not quite as bad in my mouth, a little buttersco–wait, gross, still gross. Too much heat. I don't want another sip. It tastes like eating old hot dogs on lunchbreak at the paper mill. Get it away from me. This should be recalled.

So, we are in agreement with WS on the Bogle and both admitted we overlooked the green papaya flavors.
We liked the Chateau Ste. Michelle but don't agree (or understand) the flavor profile listed. She said "maybe pineapple." But bright, light and "jazzy" this wine is not. [Note: This is Him typing: what the hell does jazzy mean?]
And finally the, urgh, (sorry I can hardly type it without remembering that stank) Hogue. We can't believe we are tasting the same wine. This wine is bad. The other two are quite nice recommendations for their value, but this one should be avoided at any and all costs.