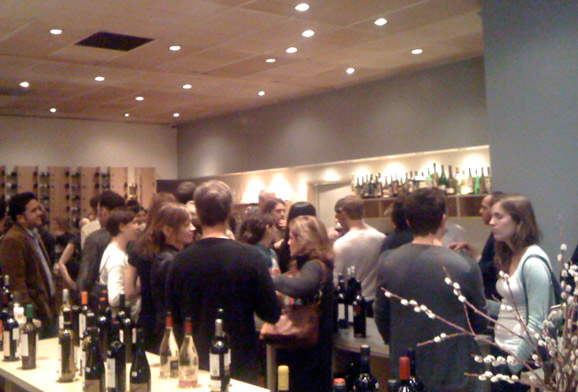 On Monday night we met our pal Corina Weibel, chef of Canelé in Atwater Village, for Silverlake Wine's Blue Monday tasting. (When your favorite chef has the night off and invites you to join her at a wine tasting, well, of course you say yes.)
Silverlake Wine is our neighborhood wine shop so we're frequent patrons, but it had been quiet a while since we participated in a tasting. In fact, the last time had been at the invitation of Valerie and Stanley of Valerie Confections (geez, we have some talented friends). SLW put together a terrific lineup to compliment VC's sweets on a Sunday. It was a fun and tasty afternoon with some antics thrown in. Between sips we got a few of the tasters (including Val and Stan) to play a little game: Just an Eyeful. (Read what it's all about and see the whole series of pictures here.)
Unlike the vendor specific food pairings on Sunday afternoons, on Monday nights SLW offers three wines, a selection of farmhouse cheeses, olives, and La Brea Bakery bread in an atmosphere SLW's website describes as "blatant low-key relaxation." The shop's  Tweets and Facebook updates about this particular Monday night's line-up, however, were anything but mellow:

Really, a $20 bottle of wine. Although this may not sound too expensive, Blue Monday's tastings cost only $12 for three generous pours of three different wines and lots of delicious snacks, so having a $20 bottle poured makes for a great deal.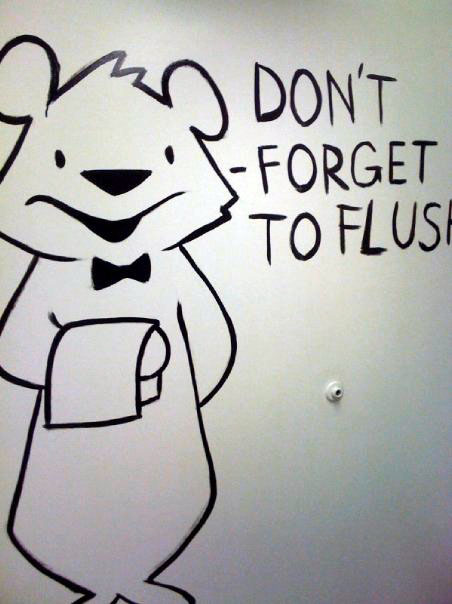 We were also super intrigued about the "perfectly perfect" label art of their new proprietary wine. Could it be by the "Awesome Bears" artist Phil Lumbang? The happy bears have popped up all over the Silverlake, waving hello, smiling, giving a wink. They feel like as much a part of the neighborhood as SLW is. The wine shop is a huge fan of the bears…so much so they got Lumbang to paint their bathrooms. What could be more "perfectly perfect?"
Living up to the hype, when we arrived at 7 p.m. the place was packed and lively, full of happy people nibbling on cheese and lucques olives and sipping wine. We made our way through the crowd to the bar for the first pour. It was a delightful, perfumey Torrontes with a hint of sweetness in the finish that complimented the rich blue on the cheese board. Corina joined us and quickly caught up. We all agreed the wine was a bargain for just $10. Next up was a quenchable Tempranillo, also reasonably priced at $15.75. So what was this $20 bottle going to be?
Well, it turns out there was no $20 wine (it really was just hype), but the third wine was a treat: Para Silverlake Red from Monterey Country, featuring on the label…an Awesome Bear. The jubilant wine pourer explained it was a Bordeaux style blend of Cabernet and Merlot. It was a soft, friendly wine (just like those lovable bears). As we finished our last sips of Para Silverlake, the shop continued to buzz.
We all remarked on how great it was to have SLW in the neighborhood and to see so many happy faces at the tasting. It was a truly delightful way to spend a Monday evening. On the way out grabbed a bottle of the bears and Tempranillo, thirsty for more. We headed up the hill to Corina's to continue our tasting ways, vowing to be more serious and take some notes this time.
First up was a bottle of L. Preston Red which Canelé has just started to pour it by the glass. Corina explained she had been looking for a replacement for the popular Donkey and a Goat Rhône style red they had been pouring. "I wanted a Rhône style wine, but not something that was 100% syrah or French…I like the jamminess that the California wines offer." She recommends it with the lamb with roasted eggplant, capers, olives, and garlic they serve at dinner. Sounded good to us.
There was really just enough for a serious sip left in the L. Preston, which had been opened the night before, so Corina decided to pop open a bottle a friend had left at her house. We did not protest. The Murtas, San Michelea Torri was an older vintage: 2001. The generous friend who left the bottle was on a "peak frequency" diet,
which has something to do with old wine and enzymes. Our bewilderment was erased by the delicious wine.
Not quiet ready to call it quits, and because we did want some notes about at least one of the wines we tasted at SLW, we popped open the Tempranillo, Ardales we had picked up on the way out.
In between discussions about Awesome Bears (She had seen one during our trip to New York), movies ("the story was insulting…they should have been more responsible…"), and music ("Maps is a way better song than Sweet Child O' Mine, but Modern Romance is still the best…") we jotted down some notes.
L. Preston, 2007 (Healdsburg)

She said: The nose is raspberries, candy, and some earthiness. For being open a day it still has a lot of heat. Flavors of cola, pepper, and mixed berry jam. It has a really lovely mouthfeel; not too rich but intense with refined tannin and a kind of freshness. Does that make sense? It is both richly flavored and austere. Completely agree with Corina that it would go great with lamb.


He said: First things first, love this label design. Cherry and raspberries on the nose and very earthy. Taste is strongest in the finish. Medium bodied, I agree it has a great "mouthfeel" but that term still gives me weird brainfeel. Front of tongue feels it right away and it's dirty with some spice. Some heat in the finish. A little tart, but I really like it.

Murtas, San Michelea Torri, 2001 (Tuscany)

She said: Very little fruit on the nose, rather it is minerals, salt, and a bit of earth. Drinks like a large, refined Chianti. Lots of bright cherry fruit, high tannin, and very dry finish. Very elegant and quenching. Could stand up to all kinds of food, including strong flavors like bbq–are those foods allowed in the "peak frequency" diet? Whatevs…it's delicious.

He said: My notes are bad, wait, I mean they don't exist. I was busy making my point that Maps is to the 2000′s what Sweet Child O' Mine was to the 1980′s. And then Corina told me that Karen O is a regular at Canelé and I was like "whoa." Because as I have said before, if She were to die in a tragic wigwam accident, I would want Karen O to be my girlfriend. Back to the wine, I wrote "some heat."
Tempranillo, Ardales, 2007 (Spain, $15.75)

She said: Soft tannin, cherries, youthful acidity…similar flavors to the Murtas we tasted earlier, but not quiet as refined. Enjoy Tempranillo and this is an example, truly lovely and at fifteen bucks, a bargain. I'm buying more. (the price on the bottle includes the tax…this is how SLW does their pricing).

He said: I got nothing. Was I even there anymore?
We decided to save the Para Silverlake for another time…enough bottles had been popped for the night. Before we left Corina's house we vowed to come to Canelé soon for dinner. Must try the L.Preston with the lamb.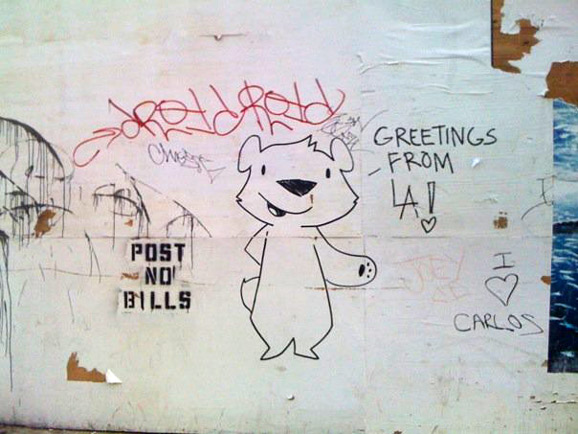 (The Awesome Bear spied near Cooper Union in New York last week.)