(photograph from CoolHunting, featuring artist Gonzalo Lebrija )
Last week we took part in several Art Los Angeles Contemporary events (see His entry yesterday). Like most of these festivals ALAC was not just about the art, there were also several fun and boozy parties. A highlight was a reception at RH bar in the Andaz Hotel on the Sunset Strip. The bar is cleverly named after the hotel's old nickname: Riot Hyatt. Lots of rock stars have done rock starry things there over the years.
The RH party was for Guadalajara-based artist Gonzalo Lebrija who created a terrific, visually stunning project with Los Angeles Nomadic Division (LAND). Two of Lebrija's films, collected under the title The Distance Between You and Me (2009), were played every four minutes on two hi-res Videotrons across the street and visible from the bar.
While lounging in the corner banquette amongst fancy art people (such eclectic choices of neckware and shoes), we sipped the specially created cocktail. It was very tasty and went down a bit too easy, a kind of Cuba Libre with rum, coke, soda water, and lime. We also got a few glimpses of the art. (This is the problem with openings…the work becomes secondary. But our gym is close by so we have since seen it several times. The piece is still running and well worth the treacherous traffic on Sunset to see.)
Our prime seat was near the door (it's always fun to see who's coming and going) and a table that had a couple of stacks of magazines on them. Expecting it to be some art periodical, I snagged one on the way out. Turns out it was the latest issue of Wine Spectator.
Today I finally got around to flipping through it's pages. I was a subscriber to the magazine for several years when I was in the business, but haven't looked at an issue in years. This is what I learned:
I've bought some really, really good wine (thank you for doing my shopping rationalizing for me). The Sine Qua Non mailing list has not let me down, according to WS. The latest offerings are on their "Spectator Selections" and "Collectible" lists. And I can wait until 2018 to drink them. Although I am very pleased my investment in "The 17th Nail In My Cranium" (that Manfred, such a quirky wine namer) is a 98 point wine, I'm not so keen on the mag's choice to use a label graphic twice in the same issue. Lazy design.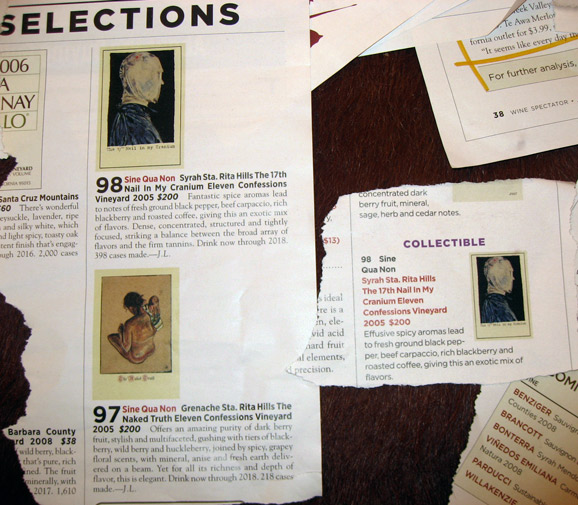 Emril Lagasse is getting fat. I rarely watch the Food Network and I haven't seen him in person in years, so Lagasse's largess seems pretty dramatic. Getting to Mario Batali-sized. But probably doesn't look as cute on a Vespa, though. (We had dinner next to Mario at Casa Mono in NYC last week…and the Vespa was parked out front, like a stage prop.) The chef's physique does not stop WS from featuring his mug in a couple of it's own ads.
"Minerality" is a controversial, but useful descriptor. The magazine first defends the term and then twenty-odd pages later declares it's superiority in wine flavors. Senior Editor James Molesworth dedicates his column to the term: "In Defense of Minerality," and in the "Value Diaries" feature Bruce Sanderson's headline reads "Mining Elegance and Minerality." Later, in a separate piece, Molesworth describes Chenin Blanc from the Loire Valley as being "backed by fresh minerality." I don't disagree with Molesworth; I am a huge fan of the wet stone, flinty, loamy flavors (what I think of as minerality) in whites, especially those from the Loire, and in the more austere type of pinot noirs.
James Laube is indecisive and doesn't play favorites. Unlike Molesworth's more selective choices in his "Value Diaries" entry, Laube is all over the place. And frankly, I like this. When it comes to buying, anything and everything goes. Example: "I often hunt for Pinot Noir, Zinfandel, Syrah or Rhône blends that include Syrah, Grenache or Mourvedre. For whites I'll look mostly for Sauvignon Blanc, and Rhône blends that use Marsanne, Roussanne, or Viognier." But not to leave the other varietals out, he goes on to mention Languedoc, Nebbiolo, Barbera, Dolcetto, Spanish "reds and whites," German Rieslings and Austrian whites. Bottom line: try almost everything.
WS has a crush on Rjat Parr. Senior Editor James Laube paraphrases Parr and gives his credentials:  "wine director at RN74, Michael Mina's hot new spot in San Francisco…" A few pages later fellow Senior Editor Molesworth quotes him in his "year in review" article, noting Parr is "wine director for the Michael Mina group of restaurants." The funny thing about this one is that I really think every issue of WS I've casually browsed through or seriously read in the last dozen years quotes or features Parr. And I'm not saying he's not qualified…he absolutely is. But so are many, many other people.
Parr is not alone in getting some love: WS has a crush on retailer Sherry Lehman. The mag quotes a store bigwig and/or quotes their prices in three different articles. This attention does not appear to be advertising driven, apparently because there weren't any Sherry Lehman ads, but the president is pissed at The New York Times for starting it's own wine club: "We're a large advertiser in the Times, and they've decided to go into competition with us…We are not thoroughly pleased with this." Ads in WS suddenly appear?
Speaking of advertising: Big brand wine ads suck. They are shockingly bad for what I assume is a pretty large budget. Cliché use of type, tacky drop shadows, messy layouts, use of an ubiquitous bottle shot: the similarities between the ads define them more than their differences. Fine stemware maker Reidel is equally terrible. A snobby, low-fi version of the Mad Men/007 vector graphic with some type thoughtlessly thrown on it. "Kerning" and "tracking" seem not to be words in the designer's vocabulary.
I had a lot of fun perusing the issue (obvs). I'm not going to become a subscriber, but next time I'm back at the Riot Hyatt (which is likely to be soon), I'm stealing another copy.