Poor boy, He's sitting in some bland, beige windowless room with seventy-four strangers waiting to not get picked for jury duty. Or hoping not to get picked. I had to dissuade Him from wearing the vintage NWA t-shirt to the courthouse. Although it is the 15 year anniversary of Easy-E's death, so I guess it would be appropriate. (R.I.P. Easy.)
He gave me permission to look through His notebooks for a Wines of Note post. Must admit this made me a bit giddy–love the voyeurism of looking through other's notebooks. The thing is He has about nine Moleskine notebooks lying around my house that are half written in and I ended up having to look through them all to find the right tasting notes. I just had to look through them all. And I totally got distracted. And then I started Tweeting and Facebooking about it. And then I felt guilty.
But not so guilty that I stopped snooping, er…reading. The tasting notes were finally found. Let the translating begin (my architecting boyfriend does not have architect handwriting).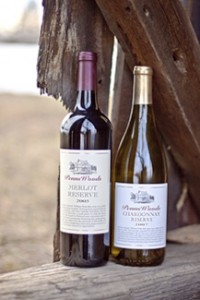 We reviewed two wines from Penns Woods Winery in our first United Slurps of America post, Pennsylvania edition. We held back the bottle of Traminette We received to taste at a later date. It was a grape neither one of Us had heard of and We both felt a bit apprehensive.
Our USA co-blogger Joe Roberts of 1WineDude had a nice story about the wine: "I tasted it while it was still fermenting in the tank and sitting on the lees…Gino [winemaker] told me he was trying to make something simple and really fruity and refreshing…I was like "Gino… if you were trying to make a simple wine, you failed spectacularly. This is one of most complex takes on Traminette I've ever tasted – you're INCAPABLE of making a simple wine, man!!!" We had a good laugh over that."
We were intrigued.
Traminette, Penns Woods 2008 (sample)

She said: Golden yellow, bright and clear. On the nose there is honeysuckle, plumeria, and hay. Or is that wheat? Complex. Rich up front: creamy and lush. Taste oyster shell and minerals. Very dry in the finish–long and lean with great acid. I love the mix of sensations and flavors. Beautiful wine.


He said: Bright gold in color. Strong scent. Minerally with some stardust [? hard to read]. Fruit. Like a German Dunkel. Shells-oyster-y, minerally. Floral wheat beer. No heat. Good acid. 11%…nice and refreshing. Not a "get drunk" wine. [He didn't leave a rating.] [Him here, editing from the courtroom, is this legal?] I give it a

We said: [actually this is She writing, but I'm pretty sure He will agree with me] What a terrific surprise this wine was. We regret We didn't include it in the USA: PA edition, but sometimes delayed satisfaction is a good thing.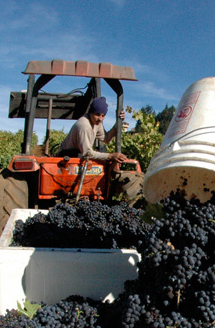 And now for a red. We recently received a package from Willamette Valley Vineyards. Included were some promo material and a nice note which asked Us to wait two weeks before tasting the wine to allow the bottles to recover from travel. We've both had jetlag, but that seemed like an awfully long time to acclimate. We've wanted to uncork the bottles several times, but waited. We lasted ten days.
Pinot Noir, Tualatin Estate Vineyard, Wilamette Valley Vineyards 2007 (sample, retails for around $40)

She said: Translucent brownish ruby in color–quite thin. On the nose lots of dark cherry, ripe plums, pomegrante, raspberries and some spice (allspice?). On the palate most of the power is in the finish; very quiet upfront and then kind of explodes with flavor. Subsequent sniffs also reveal some mintiness. The tannins are soft. There is a fresh acidity, keeping the wine bright. Really enjoy it–glad We opened it four days early and wish We had more. (To help me pinpoint the flavors I wrote in my notes "what it is NOT: meaty, earthy, syrupy, tar, too tight, bacon, tobacco.")


He said: Dark-like cherry juice with a deep red transluscense [sic]. Nose: tart cherry cola. Graham Cracker. Mouth fresh bread [draws arrow to space before "Graham Cracker"]/pastry. Tart. Graham Cracker. Pomegranate. Spice throughout. Maybe some cinnamon/nutmeg. Plum. Juicy. One of my fav PN's I have ever tasted. I want more.


We said: [actually this is She writing, but I'm pretty sure He will agree with me] The back label of the WVV pinot is one the best We've seen. No tasting notes are provided (a pet peeve of both of Us–We can make our own decisions, thank you), rather there is technical info, an offer for a 10cent refund when the bottle is returned to the winery, and symbols indicating that the winery is sustainable, Salmon Safe, and part of LIVE: low input viticulture and eneology. Not only do We admire the pro-environment aspect of this, all that information is presented in a clean, easy to read grid. Nice work.
(Side note: the pictures above are not of the wine We reviewed, but they are from the winery's website. I couldn't find any good bottle shots and got sick of searching the internet. And also…a plea: Wineries, offer Hi Res bottle shots on your website. We're not singling Penns Woods or Wilamette Valley Vineyards out–so many miss out on this opportunity to have pretty pictures of their wines on display here. Thank you, your fans He and She.)