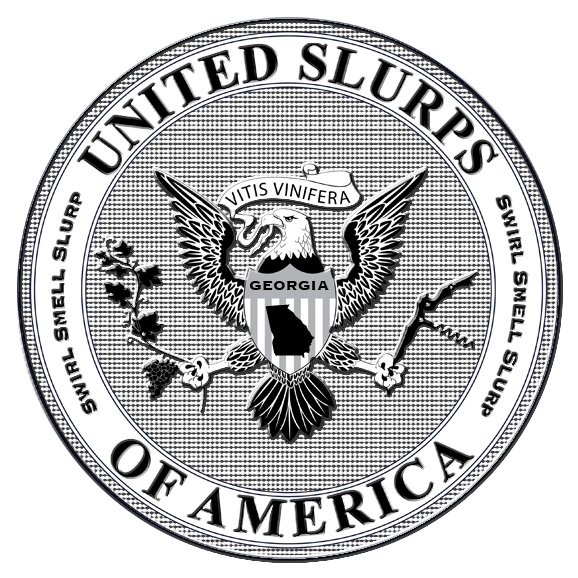 Every state in the US produces wine. Why not taste them? For 50 weeks We will do just that…welcome to the United Slurps of America. Week six: it's Georgia, y'all.
Lots of Georgia has been showing up at Her door over the last week. First up was a prettily packaged box of wine. And a few days later there was another Georgia import: Joe, the Suburban Wino. He was in our lovely state for vacation and staying just down the coast in Laguna Beach. Both the wine and Joe were a delight. Georgia, represent.
We're just six weeks in, but already The United Slurps of America has been a terrific tasting adventure. Once again We found ourselves with wine made from a far away state and, in the case of the white, made from grapes neither one of Us had ever tasted (and twisted our tongue pronouncing: say-vul? see-vel? chez-val?). Tasting in person with Joe was a bonus. We've been a fan of Joe's blog since We began our own blogging adventure. When he said he was anxious to get out and explore and how about getting together We said, yeah, come on up to gritty, hipster Hollywood and let's taste some wine.
Joe rented a car and drove up, arriving on a beautiful Spring morning. We hastily made introductions and then got down to business. Glasses were gathered and corks popped. We have a pretty regimented way of tasting wine (examine the color, swirl, smell, slurp, linger–and no talking) all of which seemed to amuse Joe. He's much more laid back and experiential in his tasting and admitted to rarely taking notes. While We went through our ritual he filled us in on some facts about Georgia wine in general and Persimmon Creek in particular, having recently visited the place. We were intrigued by the winery in light of the fanciful package they sent Us which included a piece of wool from their sheep and vineyard prunings. Joe told Us that there were about 30 of the cute, fuzzy animals on the property. We continued to sip the wines and Joe joined us in scribbling down some notes, our collective reviews are below.
Seyval Blanc, Persimmon Creek  Vineyards 2008 (sample, retails for about $12.99)

She said: The color is very pale, translucent yellow with a greenish hue. The nose is quiet: a little bit of grass and obvious acidity, which is confirmed in the mouth. With the acid are subtle flavors of cucumber and a mild gin and tonic. The wine is bone dry and quenching with a sweet tart kind of mouth puckering sensation. Also get hints of lime (perfect garnish for the g&t) and wet stones/oyster shell. Imagine enjoying with a grand le plateau de fruits de mer. Not a deep thinking wine, but highly enjoyable, food friendly, and a good value.


He said: I've never had a Seyval Blanc, this is really why I love Our project. It's very, very pale (almost clear) greenish-yellow. On the nose is citrus, cooked pear, apricot and white peppercorn. Very acidic and mouth-drying, very  reminiscent of Sauvignon Blanc, I assume these grapes are cousins, or half-brothers–or however grape families work, they are closely related. I am getting only slight hints on the palate of the fruit I discerned on the nose. I enjoyed this wine and it's a great value for 13 bucks.

Suburban Wino said: very pale in color…nothing overwhelming on the nose; some subtle melon, maybe some cucumber.  Getting a little bit of citrus, some mineral, and some herbaceous- perhaps "grassy"- elements that I tend to get in a lot of Georgia wines…let's call it terroir.  I then got some really interesting petrol and ginger notes, until I realized that I'd accidentally grabbed the white wine from Iowa from the previous week.  Oops (but way to go, Iowa).  Between the cheeks, I found it to have some decent acidity.  It was a little hollow in the palate, but I'll be a homer and suggest that will improve as the young vines (5-10 years old) develop.
Cabernet Franc, Persimmon Creek Vineyards 2008 (sample, retails for about $21.99)

She said: In the glass the wine is translucent around the edges and a muddy purplish garnet. On the nose it smells dusty with vegetal/string bean aromas. On the mouth I detect the burnt wood flavors of American oak, white pepper, and green veggies…there is a fresh produce quality. Quite tart with a lingering cinnamon-like aftertaste. Not my style, but some may say typical of a Cab Franc (and I have had many I've enjoyed, so my mediocre review is not because of the grape). 

He said: Purpley and if in Photoshop would be about 75% opacity. On the nose there is not much fruit, but spices. Peppery. Some wood, maybe blackberry. I am getting tar, like a freshly tarred street–which may be a smell of the past for me because it looks like Los Angeles is about to be bankrupt and won't be fixing any streets in the near future. Savor the smell of a functioning government. In the mouth there is more fruit than on the nose. Peppery mouthfeel with light tannins. She doesn't like it, but I totally do. This bottle is mine.

Suburban Wino said: this nose changed from the last time I tasted it.  Maybe my nose was on west coast time.  Anyway, I expected a lot of toast from the 1/3-1/3-1/3 French-Hungarian-American new oak barrel aging regime.  This time, however, I got a telltale note of jalapeño/green pepper, some red fruit- maybe raspberry, a bit of cocoa, and a freshness/cheesiness (that throws folks off) that I tend to get in Loire Cab Franc and Beaujolais and Gamay-based wines.  Rolling around in the mouth, I found it a little thin and flabby (there was some acidity there, but I could use some more).  The fruit flavors, along with some Italian canned tomatoes (more bitterness that home grown) came through on the palate.  I think this would be a darn good food wine if the acidity was dialed up a notch.

6 down, 44 to go…

We said: After tasting the Georgia wines the three of us went to a favorite neighborhood spot for lunch: The Hungry Cat. The seafood is incredibly good here…and so are the fresh fruit cocktails. We indulged in peel your own shrimp, squash blossoms stuffed with crab, a lobster roll for Him, a crab cake sandwich for Her, and an oyster po'boy for Joe. What a great day.
We later marveled about the afternoon and our whole wine tasting adventures in general. It's always a treat for a package to arrive. This feeling is heightened when said package is wine. The feeling is heightened tenfold when said package contains free wine. Opening the box from Persimmon was, by far, Our favorite box-opening experience since we started USA. There were so many thoughtful extras in the box–and wow– Mary Ann's handwriting. She wrote Us a personal 3-page letter with the most beautiful handwriting We have ever seen. Thank you, it's so nice when people care. And then there is our new friend the Suburban Wino. This was Our first face-to-face USA tasting, and it was a complete pleasure to spend an afternoon with Joe.
A quick aside, We will try to resume making the video trailers for the USA posts, but we have had a busy couple of weeks and those were one of the causalities of our schedule. Plus, He couldn't figure out a song for Iowa last week.
Previously on USA: Iowa, Michigan, Pennsylvania, Texas, Washington