Every state in the US produces wine. Why not taste them? For 50 weeks We will do just that…welcome to the United Slurps of America. Week five: Hello, Iowa.
Things We knew about Iowa before this project: it's somewhere in the middle of the country (but where exactly was not clear to Her: She had to look it up), and something about tornadoes and corn? He did skate demos there in the mid-90′s and remembers that it is very hot in the summer…He threw away all His soaking wet clothes after the demo.
Things We now know about Iowa: people there are really, really nice and viticulture is booming. Corn is not the only thing that grows well, turns out cool climate grapes thrive here too. And, yes, there are a lot of crazy looking tornadoes.
Our (virtual) journey to Iowa wine country began a couple of weeks ago with an enthusiastic email from Derek Whittington, Assistant Tasting Room Manager of Tassel Ridge Winery. Derek urged Us to try Iowa next for the USA project…and he knew just the wines We should taste. Our first thoughts (well, Her's at least): Where is Iowa? And someone there reads our blog? And they want to play along in the tasting tour? And they are going to send Us wine? Awesome…Hello, Iowa.
Next up, We needed to find a local co-taster or two. Derek kindly offered to help Us with this task as well. Through Tweets and emails he (virtually) introduced Us to two more very friendly and enthusiastic Iowans who were also wine bloggers: Dan, The Iowa Wino, and Grace, Cellarmistress. Within a week wine had been delivered and We had two new blogging wino friends. Well, three really…thanks for doing our legwork for Us, Derek.
Dan and Grace beat us to the punch and promptly tasted and posted their reviews of the Tassel Ridge Winery wines on their blogs. Keeping to our weekly Monday USA schedule, We delayed and enjoyed the wines over the holiday weekend (admittedly, with many other bottles as well). Here are our collective tasting notes…Hello, Iowa.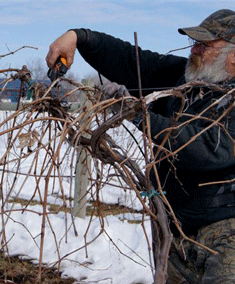 Iowa LaCrescent, Tassel Ridge Winery 2008 (sample, winery sells for $13)

She said: Very pale and bright. In the nose: citrus, pineapple, a creaminess, peach blossom. On the palate very pleasant and beautiful flavors of peach, honey, bitter almond and a healthy kick of lemony acid to keep the tropical fruit flavors from being too cloying. Tastes like a Spring day. A very enjoyable, slightly sweet white… and for $13 a good buy.


He said: Bright yellow, I feel more colorblind than usual with this wine. In the nose there is strong fruit, a lot of peach accompanied by tropical & citrus. Not overly sweet. Delicious peach right away again in the mouth, accompanied by nice acid throughout. Initial tingle on the front of the tongue gives way to smooth quite long finish with honey all over the palate. I'm always apprehensive about tasting any sweet (or semi-sweet) wine, and really don't do it that often. This wine is making me re-think my apprehension and might be the best one (of the very few) I have ever tasted. I would like a few more bottles of this to drink on hot summer days in the garden.

CellarMistress said: Never having sampled these cold climate grape varietals before, I didn't know what to expect but went in with an open mind. The Iowa LaCrescent was a semi-sweet white with a pleasant sweet bouquet. The mid palate was HUGE! Ripe, fleshy mangoes and peaches. So juicy and sweet. It dropped off at the end so it didn't linger like I would have wanted it to but it was pleasant and enjoyable. Until I got to the second glass and I couldn't really finish it because the sweetness got to be a bit much for me. I prefer drier wines. I would definitely recommend this wine however because the flavors are top notch.

The Iowa Wino said: Iowa LaCrescent is a semi-sweet white wine which I found interesting in aroma from very chilled to warming close to room temp. First in the glass chilled, the peach is so very alive, ripe and almost reminds me of fresh cut fruit. Crisp citrus and pear become more pronounced as the wine warms. Fruit fills your nose with each sniff. Alright enough of this procrastination and lets taste this juice. A mouth full of fruit in every taste. Wow fresh peach starts this great wine off first. Lemon citrus middle with even a hint of pineapple. Finish showcases the grapefruit. I love how the flavors interchange with the temp of the wine . I can see why this grape is gaining popularity in the Midwest. #3 best selling white wine at Tasselridge. Imagine a hot day and as the evening approaches this wine being sipped by you and friends prior to a dinner party.
In the Dark, Tassel Ridge Winery NV (sample, winery sells for $20)

She said: Dark, dull ruby. In the nose reminds me of a basic Cote du Rhone: some earth, smoke, and funk with dark cherry. In the mouth not much fruit. Medium tannin, some licorice and tart cherry. There is an acidic/sharpness throughout which helps give the wine structure, but it seems out of balance. For the price wish it was juicier and richer. A basic table red that does not require or ask for contemplation.


He said: Dark maroonish, somewhere between a pinot and a cabernet in color and translucency. This nose is tough for me, maybe dark cherry and some wood. Nothing is really jumping out at me. Cream soda and some earthiness in the mouth. Light tannins and a small kick of acid initially, but this wine feels "young." It died out a little bit in the mid-palate and finish. There is a decent tartness throughout, but I have to agree that it is lacking fruit and a bit overpriced. Tassel Ridge imports syrah grapes for this wine from California, which understandably increases the price. But my 2 cents is that the cold weather LaCrescent was so nice and unique; stop importing and do what you do with Iowa terroir. Don't try to make a CA wine in Iowa, make an Iowa wine! Not a bad wine, by any means, just not really a standout.

CellarMistress said: I loved the bouquet! It smelled heavenly and the flavor was berry rich on the front. As it reached the mid-palate, it hardened up a little with earthiness.The finish was one I didn't care for. It was bitter so it didn't sit well and each sip repeated exactly the same way. I'll be honest and say I didn't like it. It needed a smoother finish.
The Iowa Wino said: In the glass my first sniff identifies the huge plum aroma. Another smell and my nose picks up spice, berry, and oak. Nice red wine aromas and now lets taste this bad boy. First in the mouth I get a juicy cherry flavor. Next in the middle I get a peppery spice. Follows up at the finish with a shot of cherry/oak and a touch of the plum. Definitely a full flavored wine but a soft finish. I should have tried this wine with my grilled burger to see how it paired.

5 down, 45 to go…
Summary
CellarMistress said:I was also sent a bonus bottle whose name I found rather amusing, the Oskyfrizzante Pink. It is named, I suppose, after the town of Oskaloosa which is near the winery and is a semi-sweet sparkling wine with a strawberry hue. I ended up opening all three last night and had a little wine and cheese party on the deck with my sister and a friend during what was our first official 70 degree day of the year! My favorite of the three was the bonus bottle, the Oskyfrizzante Pink. Made with Zinfandel grapes and another cold climate varietal, St. Pepin, it was very enjoyable with strawberry, rhubarb and kiwi flavors and an effervescent tingle on the finish. It was a tad bit sweet but paired well with the brownies and strawberries that we were eating.
The Iowa Wino said: While Tasselridge is such a young winery I would say they have some very nice Iowa wines. One of the largest producers in the state I can't wait to visit and tour their facility. Stop by the winery for a visit and say hello to Derek and the gang.

We said: A terrific benefit of this project is tasting grapes We have never heard of from regions previously unknown to Us. For example, In the Dark is made from St Croix and Marechal Foch varieties, grown in Mahaska County (with a bit of California Syrah mixed into the blend). We enjoyed the pictures on Tassel Ridge's website of the vineyard just weeks ago (republished here)…check out that snow. To think We were poolside in the Los Angeles sunshine. The high acid of both the red and white wines We tasted are testament to the cool growing conditions. (Also, a reminder: Wineries, put high-res bottle images on your websites, please.)
We want to give a special "Cheers!" and thanks to Tassel Ridge Winery, their very helpful Tasting Room Assistant Manager, Derek, and our two new wine blogging pals Grace and Dan…it was great fun slurpin' America with you all.
Previously on USA: Michigan, Pennsylvania, Texas, Washington