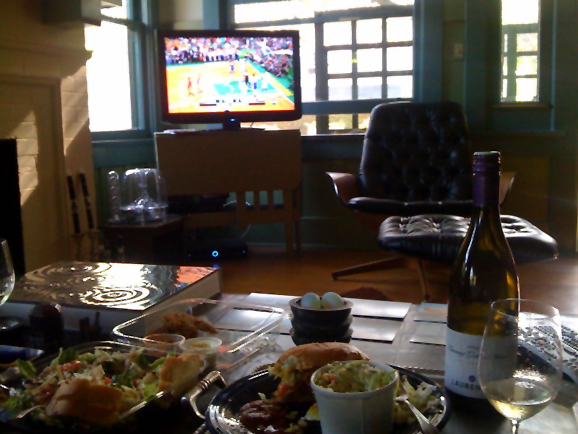 If you follow Us on Facebook and/or Twitter, you probably realize that We are fervent Lakers fans. That said, last night was tough. Post-game We went on a tirade ("Trade everyone!" "Phil is fired!"), but are feeling better today. (Just please, please, please win game 6 when you come back home.)
Thankfully, we had some good food and wine to make the evening a little more bearable. Just prior to tip-off, we had a couple of burgers and a salad delivered from Bird's, a popular local eatery in Her 'hood. We ordered via the internet on Eat 24 Hours, which, if you are not familiar, is a service that aggregates the restaurants that deliver to your address, allows you to view the menu, place your order and process your payment. And then, voila!, food arrives at the door.
The Bird's delivery guy is an awesome young Rockabilly dude with tons of tattoos. He told Us that Bird's was packed with both World Cuppers and Lakers fans–a complete madhouse. "The soccer/basketball fans are different from each other, but what they have in common is they REALLY like to drink." Ah, the comfort of Her lovely home. The burgers were excellent, the game was crap. On to the wine review…
Grüner Veltliner, "Charming," Laurenz V 2006, Austria (sample, $27)

She said: How many reviews of this wine begin with "Charming indeed…"? It just totally works. The wine is pale greenish-yellow. On the nose I get ripe apples, a little bit of ginger, some honey. These are rich and spicy aromas, but on the palate the wine is not overly cloying or full–rather it has a terrific acidic kick that keeps it in balance. Zingy, a hint of citrus, and a long and silky finish. Really great with that chopped salad and coleslaw. Maybe not the best burger wine, but a delight nonetheless. Perfect summer wine.


He said: A pretty, bright green in color (which may have been the first curse. Should We have been drinking something purple or yellow?) Unlike every Laker not named Kobe, this wine opens up bright, lively and ready to play, with a nose of citrus, minerals and a little apple. In contrast to the Lakers' defense, this Grüner is harmonious and in sync with delicious citrus flavors and great acidity that is abundant from start to finish. Ron Artest could learn a thing or two from the long easy finish of this wine (make your effing free throws in the clutch, Ron-Ron).  Don't pass on this wine, it's a slam dunk. OK, that was an admittedly ridiculous review, this wine is very, very good.