My friend Harrison has been talking about these ribs she bought at the Hollywood Farmer's Market for a couple of weeks. She basically got pressured into it. There was a big line behind her (it's a popular stand) and the the purveyor was so enthusiastic (and pushy) about the ribs that after initially hesitating she finally got out her checkbook. She said there was a collective cheer from the crowd behind her.
So what does a single woman living in a one bedroom apartment do with ten pounds of ribs? Put them in the freezer.
Harrison is a fantastic cook and generous host (check out the menu and wines We had last time We were over there)…so it's no surprise that she made such a large, rather extravagant purchase, but logistically cooking the ribs at her place would be challenging. After our first cookout of the season (fantastic burgers à la Nancy Silverton, with meat purchased from McCalls) she told Us about her dilemma of the-freezer-full-of-meat.
Oh yes, I had a solution: a barbecue at my house, of course.
I knew we were all in for a particularly tasty time when I read her Facebook update yesterday:
beautiful organic pork ribs from healthy family farms. so pretty. brine with juniper berries, chiles, and laurel leaves. wrap in garlic cloves, big bunches of rosemary and thyme. fancy olive oil. pink peppercorns. bring to [US]. watch the smoke and fire. look at the gray sky. dream.
(She's a writer, obvs.)
The meal was, needless to say, fantastic. We also had chicken, coleslaw, garbanzo bean and feta salad, corn, bacon wrapped dates stuffed with bleu cheese, lots of veggies, cheeses, and a whole lot of napkins.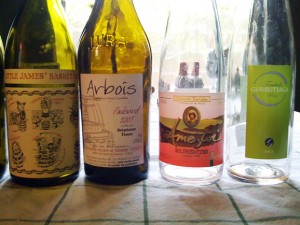 As for beverages We're lucky to have such nice friends with excellent taste in wine. Several people brought bottles (including two different Txakolina rosés…He was in heaven). We also reprised last weekend's Campari and ruby red grapefruit juice Granita with Prosecco (so beautiful–I want a lipstick this color). I also wanted to make a sangria–it screams summertime barbecue. To me, anyway. I realize sangria tends to make wine-loving crowds groan in protest, but boy, oh boy was this good. The inspiration came from the lovely, smart wine blog Brunellos Have More Fun. After seeing her pictures I knew I had to make it. You should too.
It's oh so easy: in a big glass jar I poured two bottles of Lambrusco, a half a bottle of a rather bleh red from a couple of days ago, and a half a bottle of Sauvignon Blanc that I had been sipping while prepping for the party. Next, the berries: a pint each of blueberries, strawberries, and boysenberries. I reserved a handful of each and mashed them a bit to get the juices flowing. Stir it all up and just try not to slurp it all down.
And there is a bonus: this morning all that was left in that big jar was the scrumptious wine-soaked fruit. Wow.
It's screaming out: "Pour me over ice cream!" And maybe I'll save some and turn it into a syrup. After all that clean-up I had to do this morning, He owes me a pancake breakfast.