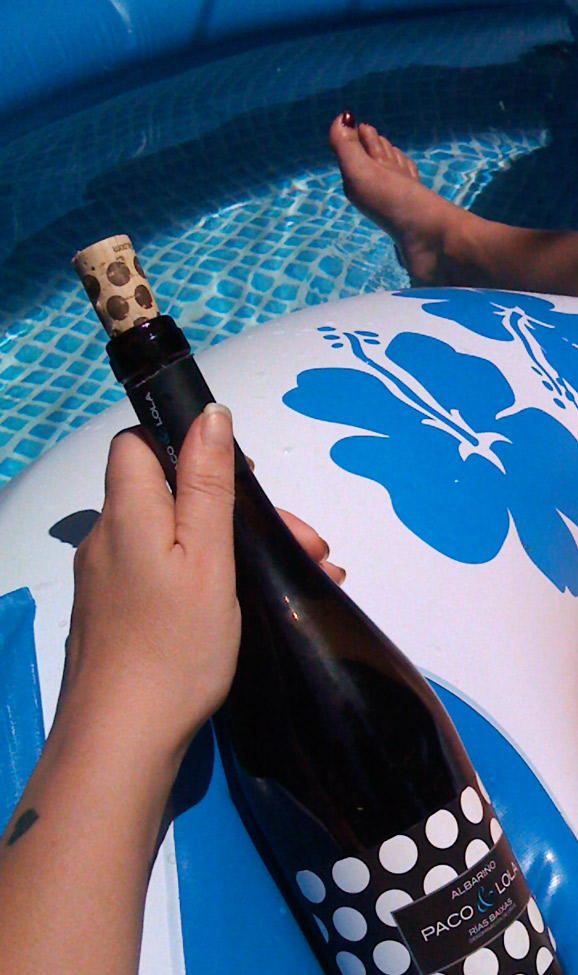 We had a little (umm, big) heatwave here in Hollywood over the past few days. On Thursday We decided to get a pool for Her backyard. It's part of the California Dream right? Movie stars and a pool in every backyard. This pool is decidedly less glamorous than the imaginary Hollywood idea, but it has done the trick. When We got back from the inflatable-above-ground-36-inches-deep pool store, there was a package waiting for Us on Her porch.
We knew it was wine, and We were really hoping for a nice refreshing white. Thankfully it was and We were anxious to get water in the pool and wine in Our mouths; counting on the wine being chilled by the time we got 1018 gallons of water in the pool.
The bottle was aesthetically pleasing; a nice, fun design. We also appreciated the detail of the cork being screened to match the perforated appearance of the bottle. Now it's time to float around in our silly inter-tubes (with cup holders, of course) in our silly pool and drink some wine. Finally some relief.
Albarino, Rias Baixas, Paco & Lola 2009 (sample, retails for around $18)

She said: A delightful, refreshing hot-day-floating-in-the-kiddie-pool wine. The initial mineral-infused sips lead to rich peach blossom, honeydew melon, and citrus notes. There is an ever present acidity throughout, without which I think the wine would fall apart, but its presence holds everything together and kept me sipping. If P&L retailed for five or six bucks cheaper I'd buy it by the case for the kiddie-pool days (aka: everyday since I bought it). 


He said: A pretty intense nose from which I would have a difficult time pinning down the varietal. Definitely citrus, some floral notes and some green apple. A nice minerality and then peaches in the mouth. Very nice, crisp acidity. Nothing spectacular, but a very refreshing drinkable wine that We finished in less than 45 minutes, whilst floating around the pool. We were thirsty.