Saturday night We got in a cab and headed west to Test Kitchen, a new concept restaurant which showcases a rotating roster of chefs and bartenders (which they refer to as "mixologoists," but that is just silly) who are experimenting with dishes and drinks. Our double dating partners D & M scored a reservation for Jordan Kahn's stint as he previewed items from the soon to be open Red Medicine. Behind the bar was Joel Black and Julian Cox.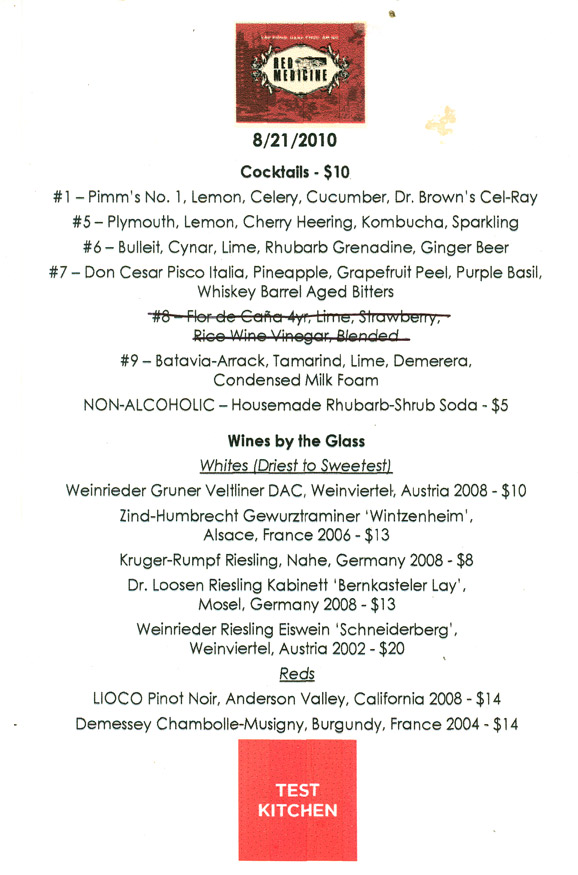 We arrived  5 minutes late for the 9p reservation, but it was no problem: the place was packed and our table wasn't ready anyway. Cocktail time. The list and chalkboard specials were incredibly intriguing. Condensed Milk Foam? Cherry Heering and Kombucha in the same drink? "Paper Planes:" was that an MIA reference?
We each ordered a different cocktail, determined to have sips of them all. Love MIA and love Aperol, so I got the Paper Planes. Delicious. D's frothy strawberry number came with a single ice cube the size of a Rubik's Cube. Delicious. His had purple basil leaves floating around in it. Delicious. I don't remember the particulars of M's, but it too was delicious.
From our stools we watched the kitchen and rather harried waiters and managers running food, looking at tickets, conferring. They were obviously in the weeds. Not only was it a test for the kitchen, but the front of the house as well. And they appeared to be scrambling. The chef's body language on the other hand appeared calm and determined, as he plated the dishes, hiding behind his very long asymmetrical bangs.
We were finally seated (your table is ready, we get up and leave our bar stools, oh wait, your table isn't ready, we stand for 10 minutes with our dripping drinks, oh your table is ready) at a large round that previously sat 6 (whom we suspected were blogger papparazi with their constant iPhone updates and picture taking–it made me second guess my own plan to take shots). Instead of spreading out, we scooted close to each other around half of the table. The basement location of the restaurant with it's low ceiling makes for a loud dinning room, so this helped in being able to hear each other.
Another round of cocktails for M and Him, initially a glass of Gruner (corked) and then Zind-Humbrecht Gewurztraminer "Wintzenheim" for me, and a glass of LIOCO Pinot for D. Later we split a bottle of Demessey Chambolle-Musigny–allowing ourselves to indulge and take advantage of cabbing it.
The food began to arrive. The standout of the twelve different dishes (which the menu declares "In no particular order") was the next to the last one, a dessert parfait with: Coconut bavarois, coffee, thai basil, peanut croquant, chicory. The best dessert I have ever had. Ever.
As for everything else? I thought it ranged from strange (mushy carrots and coconut) to mediocre (saigon tartine) to good (cured amberjack). Nothing wowed me. And this is okay, I thought, because it speaks to the concept of the restaurant: testing the kitchen. Jordan Kahn and crew were experimenting, developing, tweaking.
But if the kitchen was testing, don't they want to know the score? Throughout the meal the service was spotty (forgotten drink orders, slow in between courses and then two at once, runners who dropped off food without describing it), so I'm not surprised we were not asked how we enjoyed the dishes as they came and went.
The boys bought dinner,  and as we were heading up the stairs I said, "You guys saw they add gratuity, right?" I was the only one who had noticed the "18% service charge will be added to all checks" declaration at the bottom of the menu. They caught the manager just as he had closed out the checks. Waiting to hail a cab out front, we all agreed the server should have said something, as should the manager who would have noticed the extraordinarily large tips.
We hopped in the cab, headed back east, and rhapsodized over …the cocktails. Which we had a lot of time to do: the cab driver unwittingly took Franklin through Hollywood. On a Saturday night? Are you kidding me? He really should have asked us our feedback on the route.
My tweet the next day sums up my take on the food (and cab ride).