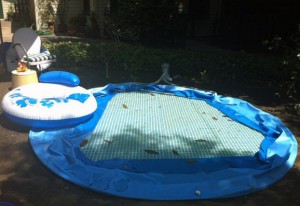 Sadly the kiddie pool We so enjoyed during the last LA heatwave has succumbed to the raucous ways of the critters of the Hollywood Hills. Let's hope they enjoyed it as much as We did. Before my backyard was flooded with a gazillion gallons of water (upside: I didn't have to water for a couple of days), We did enjoy another couple of bottles of Albariño while floating around in it. (We had so much fun with the Paco in the Pool post, We thought it worthy of a repeat.)
We donned our swimming costumes, popped open two different bottles from Rias Baixas that We had received as samples, and gave them a taste test while floating around in the somewhat ridiculous, but highly satisfying kiddie pool. Both wines were divine.
I've had several vintages of Martin Códax Burgáns Albariño over the years and have found it consistently delicious and well priced at around $ 15. The 2009 was bright and clear with a golden hue. It was very fruity in the nose and I sensed Granny Smith apple and almonds. The wine has high acid, but is round in structure. Lots of minerals, very crisp and refreshing on the palate. A long, lingering finish. I enjoy it when a wine, like this one, is lush and round, but also tangy and acidic. I've noticed Albariños are becoming increasingly popular (especially in these summer months) on wine shop shelves. This one is easy to find, the right price, and lovely, year after year.
Although I am familiar with several of the wines in Eric Solomon's book, I had never tried the Pazo de Senorans Albariño. In general I think of Albariños as being an excellent bargain, but this wine is priced at $25 a bottle. What distinguishes it from others? In color the wine is similar to the Burgáns: bright and golden in hue. The nose is more floral and tropical. I sensed lemon curd, almonds, and honeysuckle. Lots of minerals again and a soft, round structure with the tang of acid. The Pazo de Senorans offers a greater concentration and almost syrupy quality with a long lingering finish that I loved. Truly wonderful. I would pay $25…and hope to very soon. Researching where to buy this wine in L.A. now.
With the pool now in the recycling bin, We will be enjoying crisp wines on hot days while sitting in loungers under an umbrella, rather than while floating in the water. Oh well. There's always the spray of the hose for a quick cool down.