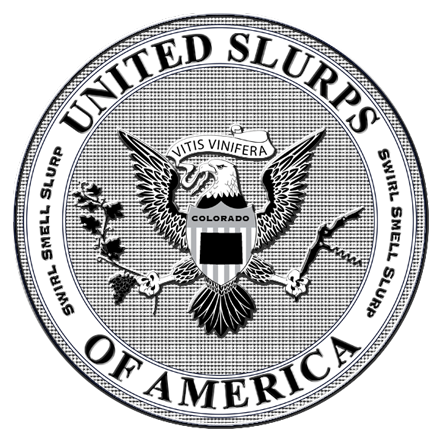 Every state in the US produces wine. Why not taste them? We're doing just that…welcome to the United Slurps of America. The next stop on Our tasting tour: Colorado.
We spent the weekend in Palm Springs celebrating Her something-th birthday with a bunch of Our friends. We packed up the puppy, swimming attire, minimal clothing, and maximal wine and headed to Our rented Mid-Century Modern house. Included in the wine suitcase were 2 Colorado bottles sent to Us from Boulder Creek Winery that we would sip between dips in the heated pool.
In addition to Our friends celebrating with Us in Palm Springs, We tasted with Kyle of Colorado Wine Press. We are grateful to Kyle for making all of the arrangements with Boulder Creek Winery and flattered that he contacted Us to be involved in the project. Kyle tastes and writes about wines from around the world on his blog, but there is a local slant that we appreciate as he covers the burgeoning Colorado wine industry. As Kyle puts it, "The Colorado wine industry is a rapidly growing teenager…with now nearly 100 wineries."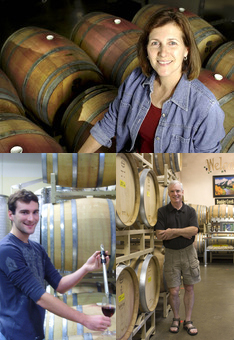 100 wineries? Who knew? Colorado is, of course, known for beer with the world's largest brewery in Golden… the "Silver Bullet" and all that. However, there are two AVA's located in Colorado which produced a rather large variety of varietals. The Riesling and a Cabernet Sauvignon from we received are from the Front Range growing region.
Boulder Creek Winery is a family owned business run by Jackie, Mike, and Will Thompson. Jackie, the primary winemaker, holds a degree in Plant and Soil Science, and was a home winemaker for years. Likewise, her husband Mike, a former wine steward and life-time wine aficionado, has been an avid home brewer for decades. Their son Will acts as assistant winemaker and is responsible for the winery's award-winning Riesling…one of the many awards and accolades the winery has earned since its inception in 2003.

Gen Y Riesling, Boulder Creek Winery, 2009 (sample, $16)

She said: When tasting I always start with the color, swirl the wine around a bunch, give it many sniffs, and then taste (yes…swirl, smell, slurp). This wine is rewarding on all fronts. A pretty, bright golden yellow and highly aromatic and perfumey with honey, ripe pear, pineapple, and other tropical notes. I would happily dab a few drops behind the ears, like a favorite perfume. The aromas continue onto the palate with the addition of the tell-tale Riesling flavors of petrol and minerals. There is enough acid to prevent the wine from being too cloying or sweet, but there is obvious residual sugar. Highly enjoyable and surprisingly refined for the price. The nose is simply gorgeous…I happily sniffed and sniffed before each sip.


He said: Not knowing what varietals We were receiving from Colorado, my thought when seeing the bottle of Riesling was, "Oh, that makes sense." Not exactly from a cold Rocky Mountain stream, but a varietal I equate with colder regions. This wine is all about the nose, very aromatic. Honey, pineapple and pear, and I can smell it with my face 5 inches from the glass. In the mouth, the honey continues, and some minerality. A little too sweet for me to drink much of this, but all-in-all a very nice wine (and a great value for $16).


Colorado Wine Press Said: This wine was actually made by Will Thompson, Mike and Jackie's 20-year old son. Will has been instrumental in winery operations since its inception in 2003. Last year, winemaker and mother, Jackie, decided to give Will a bit more authority in the winery's operation and allowed him to choose one wine to make from start to finish by himself (with mom closely watching, of course). Will chose Riesling, the winemaking tradition was passed down to the next generation and the 2009 Gen Y was born. This pale yellow Riesling is very aromatic. Citrus, pineapple and ever-so-slight petrol aromas emanate from the glass. The Gen Y is medium sweet with honey and Asian pear on the forepalate. This sweetness is followed by good acidity of citrus and piña colada flavors briefly on the midpalate. Minerality and Riesling's characteristic petrol rounds out the finish. This first wine by a first-time winemaker provides a good balance of sweetness and acidity. The nose is just fantastic. It is a touch too sweet for my preference, but overall it is a very good wine.
Cabernet Sauvignon, Boulder Creek Winery, 2007 (sample, $24)

She said: Very deep, dark garnet in color. Obvious oak on the nose, and I would guess its American as it has a burnt, pencil shaving smell. Also evidence of tobacco and brambly herbs. I was initially put off by the overly smokey nose, but let the wine sit in the glass for an hour and the flavors mellowed and reveled some subtle dark red fruit. The same is true on the palate, which is initially overwhelmed by tannin. But over time the wine reveals flavors of ripe plums, currants, pepper…and the smokiness remains. Some wine remained in the bottle and I tasted it again two days later…the sharp flavors had subsided and the wine was silky, herbaceous and rich…very pleasant. The wine could use more time in the bottle, but if drinking now decant! And pair it with a hearty steak or bbq. My score reflects the two-days-later slurps.


He said: Very dark, looks like cherry cola. Smokey and peppery with oak, oak, oak on the nose. Tannins overpowering the initial sips but mellow throughout the hour or so that We are drinking. Smokey and rich with flavors of dark fruit. I didn't like this wine at all at first, but it's totally growing on me as it opens up [edit: and as We finish the bottle 2 days later].

(At $24 it may be a little overpriced, but i'll keep my rating 3/5 bottles)

Colorado Wine Press Said: This award winner is Colorado's rebuttal to anyone who says good Cabernet Sauvignon cannot be made in the Centennial state. This wine is almost black throughout but with a dark red rim. It smells dark and brooding. The complex nose provides aromas of characteristic black currants, herbs, pencil shavings and black pepper. A hint of tobacco and smokiness is evidence of its time in oak barrels. After just smelling this wine for a few minutes, it fills my mouth with a good amount of smooth yet strong tannins that don't dry out my mouth like so many over-extracted Cabernets and is balanced by a healthy amount of acidity. Currants and dark plums come to the front of the palate but are quickly replaced by a long finish of mesquite and pepper. Another aromatic wine by Boulder Creek, but I would like the fruit flavors to linger around for a while longer. This wine definitely deserves to be paired with a proper meal.
14 down, 36 to go.
Summary:

We said: We began this project at the beginning of March with the intention of tasting a state a week. That didn't quite pan out. However, We have now tasted 14 states; that's an average of 1.75 states per month, a statistic We can live with. We got busy and it's harder than Boardwalk Empire makes it seem to get booze across state borders. But thanks to people like Kyle and the family at Boulder Creek Winery we will finish this project. Meeting like-minded people and learning about wine regions We had absolutely no previous knowledge of is way too fulfilling to give up on. So, see you with another United Slurps of America in 0.875 months. We hope. Cheers!

Previously on USA: Georgia, llinois, Iowa, Kentucky, Massachusetts, Michigan, New Mexico, North Carolina, Ohio, Pennsylvania, South Dakota, Texas, Washington