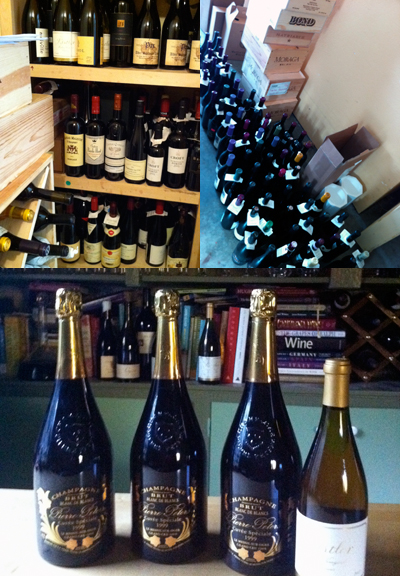 Friday after Oinksgiving Day (we made an amazing pork loin with romesco and melting leeks) I was up too-early and on the freeway from my folk's place near Santa Cruz en route to Napa Valley. Finally, after a year and half being back in Los Angeles, it was time to collect the very last of my things. It was time to get the wine.
So instead of vegging on my parent's couch, I spent the after-feasting day in a very chilly garage and cellar (kept at 55 degrees, of course) sorting through, dividing, and boxing up bottles. My handy helper, Jana-Banana (aka: Mother-of-the-Year), spent the day carting away my portion of the collection to a storage facility down valley. She got in four trips and filled a locker before the place closed.
Although it was an awfully long, cold day (not to mention a little surreal to be back in my old house), sorting through the cellar mostly felt like X-mas in November.
Wow, there were some treats in there. Several vintages of Salon, Kracher stickies, Mouton-Rothschild and other first growths from the year I was born (yes–old bottles), "Brune et Blonde" Guigal's, Bruno Giacosa Barolos, Tardieu-Laurent, Chave Hermitage, d'Yquem, et cetera. And of course there was a whole bunch of domestic stuff too, but I'll stop name-dropping before I sound like a complete asshole. Believe me, I feel very lucky: my former partner and I really have collected some great bottles over the last dozen or so years.
Division went fairly easily as there were multiples of most bottles, but there are still about 300 or so single bottles to go through. Oh, how to decide? I'm thinking a flip of a coin will be making a lot of the tough decisions for us. Really hope I get the Krankl/Alban Tant Pis.
Once the cellar is all divided up (and finally this very saving-the-best-for-last part of my move comes to a close), the big question is: What do I do with all the wine?
There are many bottles I will want to keep and/or pop open soon (say all those 10 year old California chardonnays that somehow didn't get drunk–yikes), but collecting (or in my case: storing) wine doesn't quite fit into my lifestyle like it used to.
Auction? Consignment? Donate to charity? Give really generous holiday gifts? Throw a bunch of really awesome wine parties? (We're overdue for that.) Or maybe I'll just pay that storage bill through 2011 and think about it next year. Took this long, what's a little more time?
It'll probably be a combo of all of those options. I'll ponder it all while I pop open one of the bottles I brought back to Hollywood with me. Perhaps one of  the three '99 Pierre Peters magnums? Or the '04 Hyde Vineyard Kistler? Or should it be the '02 Hudson Vineyard Kistler instead?
Maybe just a vodka tonic.