Rain again this weekend, L.A.? Sigh. Longing for last weekend's Palm Springs getaway.
Getting out of town was tough– holiday traffic in the rain. It got dull, it got irritating. And We don't smoke anymore, so it got a little anxious too. We asked the car, via voice command for an alternate route on GPS. A game begins. And so does the tweeting.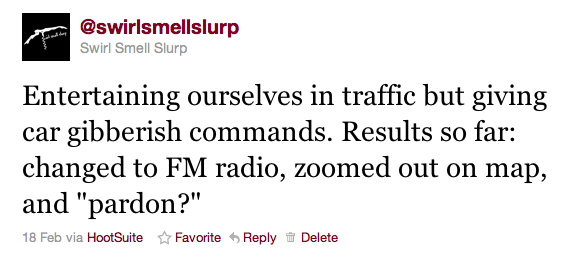 The charm of the game wore off. The puppy napped in the back, We stared at brake lights in front. Finally traffic started to ease up and We were cruising.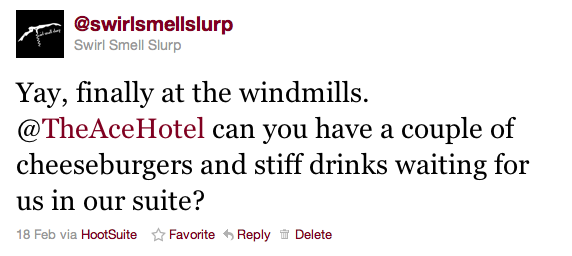 Within a few minutes We got to The Ace, our desert oasis for the long weekend. We stumbled out of the car into the rain, and rushed into the lobby.
While We're checking in, the "PRIVATE" door opens behind the front desk, dude walks out in a hurry, interrupts our helpful check-in guy: "Jen just called from Portland. A couple of people Tweeted from the road. They're rolling in from L.A. and they're ready to party."
Wait. What did you just say?
That's Us.
What We didn't realize is that moments earlier We had received this @ reply:
.

As We arrived to the room, so did cocktails. Yes, We love The Ace Hotel.