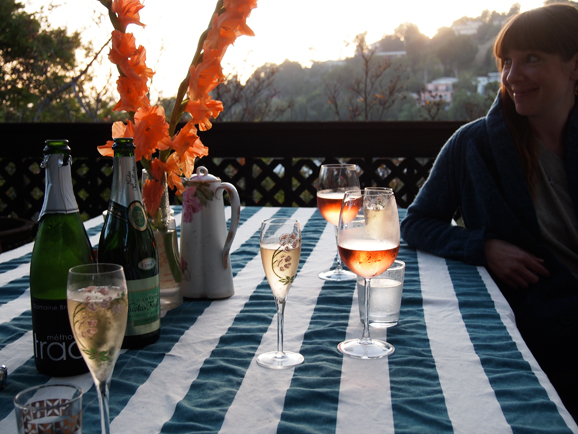 The first slurps on the new patio were delightful, plentiful, and the prettiest shades of pink.
Our pal S came by and we watched the sunset, drank rosé (it's L.A. in October, totally appropriate), sipped bubbles, and later made a mess of the kitchen preparing potatoes, haricots verts, slow cooked greens, and a roasted chicken. (Which turned out to be more challenging than it should be as we adjust to the new oven. Hmm. The chicken initially looked a little anemic, but we broiled it for a few minutes and got it close to brown.)
Having a housemate who loves to cook and is damn good at it is a (tasty) treat. Between the two of us, He is going to eat very well. Combining our tools of the trade and larder has our kitchen packed to the gills including an amazing, fragrant collection of spices, oils, vinegars, and oh yeah, wine. Loving it.
The first toast was a perfect: 2004 Nicholas Feuillatte Blanc de Blanc. Sweet flowers on the nose, racy citrus on the palate, with some green apple. A terrific aperitif. When the bottle was empty, we tried another French sparkling, this one a blend of Pineau d'Anuis and Chenin Blanc: NV Domaine Brazilier. After tasting the elegant Feuillatte, the Brazilier stuck me as flabby in structure. But it is also lovely in its own way: ripe pears, yeasty, hints of allspice, long finish.
The hot housemate had a bottle of rosé open from the night before: 2010 Prieuré Saint-Hippolyte from Languedoc. It was a beautiful orange pink, fresh, fruity, and simple. And it matched the sunset. You've got to love a town that has weather so moderate and wonderful that rosé season is practically year-round.
As we feasted on the chicken and veggies, we sampled three reds (as I said: there is a lot of wine at the new digs): a spicy, dense Rijoa (2005 Vina Santurnia Reserva), an absolutely wonderful and elegant Marc d'Grazia selection from Sicily, and a rather vegetal Chinon (2009 Le Paradis). If I could buy a case of the 2010 Etna Rosso, Tenuta Delle Terre Nere I would, but sadly George at Silver Lake Wine sold me his last bottle. I'll be seeking it out elsewhere.
The conversation around the dinner table centered around what we would be cooking, eating, and drinking at our first dinner party. I loved the old Hollywood house, but this was a damn good move. Hello, Silver Lake: I love you.