Articles from November 2011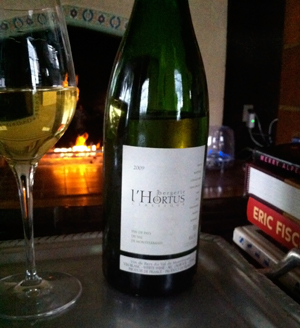 Recently I enjoyed two wines (without Him) worth seeking out. Which is to say: I've had a lot of wine without Him recently–He was in Texas for nearly a week and upon His return has been avoiding whites. (He posted a snapshot of what he had  in Texas over on our Facebook page. I faired better.)
My first new favorite was a wonderfully named red. After a free Tecate in a can at the closing reception of the Like Father, Like Son show at Carmichael Gallery in Culver City (a collection of excellent gritty and often sexy East L.A.-centric photographs spanning 30 years by the Oriol's who both signed our books) my pal RW and I headed back to the eastside and stopped off at Lou for a snack and some wine.
My choice: the inky 2009 (?–I think) Lemberger, Weingut Schnaitmann. Not only did I love saying Lemberger (over and over again, glass after glass) the wine really did it for me. Blackberry and sour cherry fruit, a wonderful chalky texture, and a hint of dried herbs in the finish. It turned out to be a great paring with the charcuterie and cheese plate we shared. A lighter red (despite its deep color) the wine has a fine acidity and juicy flavors that made it really food friendly.
Lou says the bottle would make a great Thanksgiving wine, and I'd have to agree with him. That is, if I liked traditional Thanksgiving dinners. But I think I'll serve it anyway. It will go great with the pork loin stuffed with herbs we'll probably make on that day. K & L Hollywood has carried this delicious Lemberger (Lemberger, Lemberger) in the past, but is currently sold out. Shame. I'll seek it out at another local shop…
…such as Domaine LA which is where I just picked up (and am currently sipping on) an excellent white for a great price: 2009 Bergerie de l'Hortus blanc ($12.50), a lively white blend of chardonnay, sauvignon blanc, viognier and roussanne. Lots of sweet and sour apricot and honey with a strong acidity and long finish. It manages to be rich and round without being cloying or overpowering. The perfect aperitif. If only I had a goat cheese to nibble on with it.
I also picked Him up a couple of reds. I have a feeling we'll be popping those tonight too. He'll report on them later. (By the way, it's worth mentioning I walked out of  DLA with 3 bottles for a less than $35 tab. Excellent. Thanks for the recommendations, Jill.)
The latest in the soda making adventure: strawberry.
This one was so simple. No cooking. Just a little maceration of the sliced berries (and spoonful of sugar), add a splash of Pomegrante juice, a little lemon zest, a few whirls in the food processor, and then strain. (We used the leftover stuff as a spread for toast the next day.)
I added a splash of vodka and a sprig of mint. Perfect.
Latest libation obsession: