Despite the plethora of incredible restaurants in Los Angeles, We have been staying in this week. We love to cook with each other, and y'know, the NBA playoffs are happening: there seems to be a basketball game on every night. Last night Our beloved Lakers were playing the Suns. We DVR'd the beginning of the game, broke-open a box of wine (review below) and prepared Our dinner.
She's a scrappy cook and tends to just open the refrigerator, stare a few moments, and come up with something. The night's (clean out the frig) menu: coleslaw, sauteed mushrooms, and turkey burgers in the shape of hot dogs because She only had hot dog buns. Here's how it went down: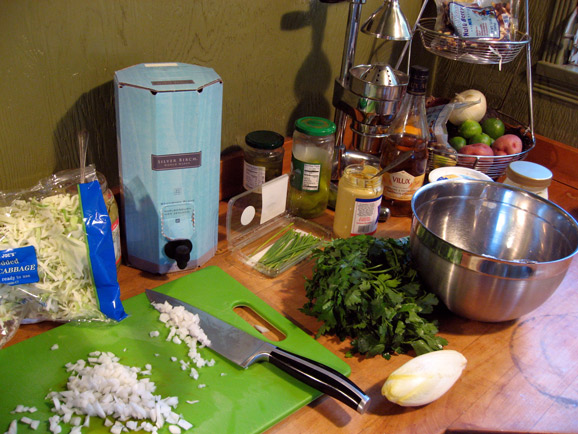 First up was the coleslaw. For the salad We used:
1 bag of shredded white cabbage
1 large endive, sliced in rounds
1/4 of a white onion, diced
4 pepperoncinis, roughly chopped
6 cornichons, roughly chopped
We prepared the dressing in a separate bowl, whisking together:
2 parts mayo
1 part sour cream
2 tbs tarragon vinegar
3 tbs Dijon mustard
dash of celery seed
pickle juice and cornichon juice to taste
salt and pepper to taste
We mixed the dressing into the salad, and put in the frig. Next, We got to work on the turkey burgers-in-shape-of-hot-dogs. Into ground turkey We mixed in:
1/4 of a white onion, roughly chopped
4 tbs chopped flat leaf parsley
1 tsp of dried thyme
1 tsp of garlic powder
salt and pepper
Mix, mix, mix by hand and then get shaping:

The burgers-shaped-like-hot-dogs struck Us as hilarious and some rather pornographic conversation ensued.
Next up was chopping some crimini and shitake mushrooms and thinly slicing a shallot. We placed the hot dog buns in a warm oven and heated two pans on Her trusty antique stove, "Sparky." He manned the stove, keeping an eye on the turkey and stirring the mushrooms, while She prepared a small pre-dinner cocktail: vodka on the rocks with a splashes of Campari and soda water, and a generous squeeze of lime. Refreshing and delicious.
Within fifteen minutes all the hot stuff was ready. We pulled the coleslaw out of the frig, made a quick adjustment, adding more salt and a dash of Tabasco. We each poured ourselves another glass of wine (or rather, turned the little spigot and filled up our glasses) and then plated up: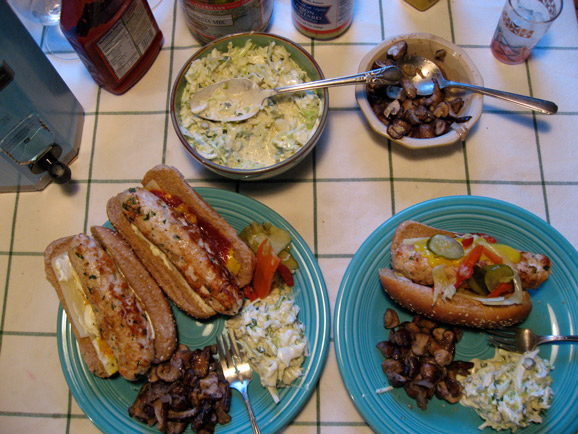 He bravely went for two turkey burger/dogs, adding a couple of slices of Swiss cheese to each. She went for just one, but buried it in Krugermann pickles (hands down the best pickles We've ever had–made right here in L.A.).
We sat ourselves down in front of the tv, turned on the Lakers game, had a "cheers, big ears" and got to work.
'Octavin' Sauvignon Blanc, Marlborough, New Zealand, Silver Birch World Wines 2009 (sample, $23 / 3.0L)

She said: Pouring the wine from a box brought back memories of sneaking sips out of the neighbor's big box of Franzia while babysitting their brats. (Was I the worst babysitter ever?) The wine has a golden-ish hue, which seems unusual for Sauv Blanc. On the nose I get fresh cut grass, some grapefruit, and honeydew melon. On the palate the wine has a nice balance of tropical fruit/acid/alcohol. It's zesty, but not overwhelmed by acid. The finish is round and soft. Very enjoyable, indeed. And it was a great match for the meal, especially the coleslaw. 


He said: I haven't had boxed wine since I snuck some white zinfandel from my parents in, umm, the mid-80′s. A little darker and cloudier than what I typically imagine an SB to look like. A rather mild nose with a little grapefruit and citrus. Fresh and clean in the mouth with nice acidity levels. A perfectly drinkable wine that was great with the pickles and coleslaw. I'm glad I like it because there are 3 liters in the box.

Dinner was great, the wine was good, the game…ugh. Also, screw technology. At the end of the 1st quarter (on time delay from DVR), He went to check his email and happened to see the halftime score, which made the 2nd quarter boring to watch. To make matters worse, at the end of the 3rd quarter, He got a Facebook message on his phone that made clear the Lakers had lost the game. He placated Her throughout the 4th quarter, knowing Her excitement during the little Laker rallies were fruitless, but didn't want to ruin the game for Her too. New Rule: Absolutely no cell phones, computers, pagers, carrier pigeons or any other communication devices during DVR'd Laker games.
We resisted the urge to console ourselves with the entire box of wine (3 liters, whoa). Next game: Thursday–it's going to be the good news day.