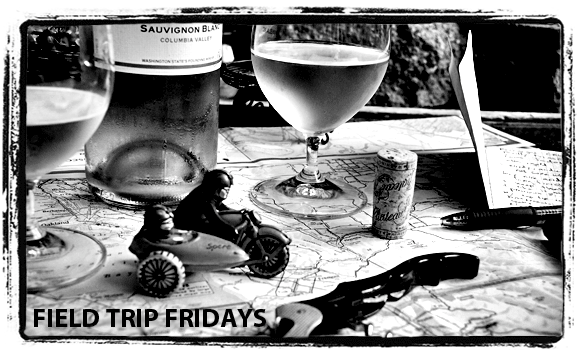 Friday night was double date night and to start the evening off right our pals brought over a bottle of "Sinister Hands" by Owen Roe from their local wine shop, Colorado Wine Company. (The store is terrific and We inadvertently left it off the list of where to buy wine for next Sunday's Salon–thanks for the reminder, Ceci Sipper.) We just had a few sips before the cab pulled up to take us down the hill to Loteria Grill. We didn't have the time or the inclination put "Sinister Hands" through our regular tasting regime (note color and then a whole lot of swirls, smells, and slurps), but I did notice the wine was thinner and lighter than I would expect from a Châteauneuf du Pape blend. On the palate it was showing it's youth: the wine was tight and a bit sharp, with somewhat muted flavors of candied strawberry, some tar, and lots of spicy black pepper. Very enjoyable, but still young and acidic and missing the juiciness I enjoy in these style of wines. I want to try it again after it's had some time in the bottle.
Our cabbie weaved in and out of the crazy Hollywood Boulevard traffic and we finally arrived at Loteria just in time for our reservation. The place was packed and LOUD, two qualities I usually don't mind in a restaurant but the sound bouncing off the walls and echoing in the vaulted ceiling required us basically shout at each throughout the dinner.
Taking a cue our friends who had been before, we we immediately ordered a round of Tamarind tequila "martinis" from our goofily enthusiastic server. The pretty orange concoction was a bit sweet for my taste, but it was pleasant enough. Next up was the Probaditas, a platter of 12 tiny tacos. The one's I had were tasty, and I especially enjoyed the fresh, green flavors of the cactus taco. The problem with the dish is that it is hard to share a taco with anyone else–they are single bite size. Next up for me was the special fish, a mahi mahi with mole. And a round of Cazadores shots for the table. My fish was disappointingly over-cooked. I enjoyed the sauteed greens and the mellow but flavorful sauce it was generously covered with, but the protein seemed secondary on the plate. He felt equally underwhelmed by his Cochinita Pibil burrito. The spices (not peppers, but what seemed like clove and/or nutmeg) overwhelmed all other flavors.
We've heard a lot of hype about Loteria, so our expectations were high and we had been looking forward to the dinner all week. Turns out that it's not for us. We still had a fun time because of the great company (and tequila), but, as He said this morning, I'd rather get a taco from a truck downtown.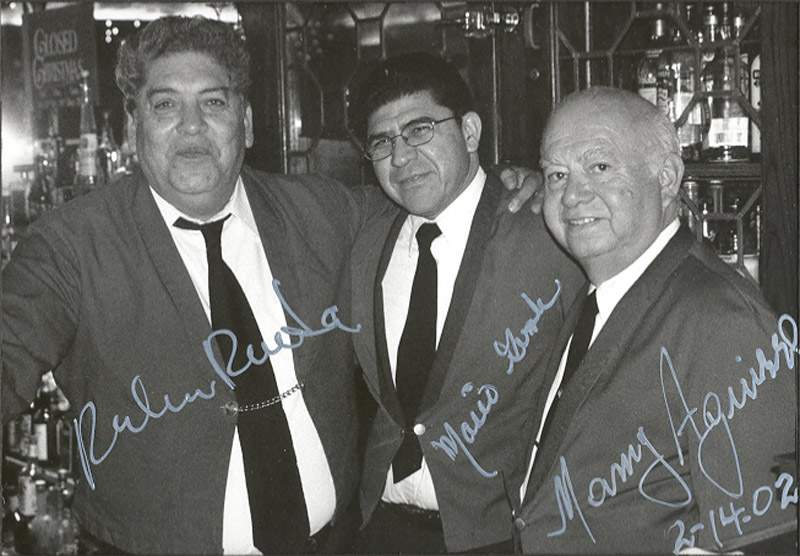 After the meal we walked across the street to the beloved Musso and Frank, taking the back entrance and heading straight for the bar. Turns out the dining room was shut down but the bar was still mixing cocktails (they just recently started staying open until 2 a.m. on Friday and Saturday nights). Three of us had Manhattans and He ordered a Millers gin with a cucumber. Ruben, the legendary bartender, looked pained and said, "What…you want a salad?" There was a very funny exchange back and forth and finally Ruben handed Him a Miller High Life with a slice of cucumber on the side. Oops. He reordered: Hendricks gin with a lime, please. Everybody had a sweet tooth so I gigantic piece of cheesecake was ordered with cherries and a strawberry compote on the side. It lasted about 2 minutes. We marveled at how they got the cake so tall and with such a lovely no-crust crust.
We headed back out to Hollywood Boulevard, and it was hopping: lots of bare legged and barely dressed kids (they were like 16, those girls, right?) lined-up in front of various clubs. Traffic was horrendous, but we easily hailed a cab and headed back to the Eastside. We said our goodbyes and…promptly went to bed. Slept like babies. After last nights' festivities we lazily spent this sunny Saturday morning with some tasty and much needed French press coffee.