Every state in the US produces wine. Why not taste them? For 50 weeks We will do just that…welcome to the United Slurps of America. Week nine: It's Massachusetts.
Marco Montez of Travessia Urban Winery was one of the first people We contacted when We began our Slurpin' USA adventure. Jill of the lovely wine shop domaineLA here in our fine city recommended Travessia (and has blogged about the wine), as did several Twitter friends. Just one week into the project, We sent off an email and Marco quickly responded, "I can certainly ship samples to you.  No commitment, you can taste the wine and review them positively or negatively, or don't review them at all – totally up to you – how's that for a policy?" Um, that would be a policy We like.
Marco has a wonderful,  affable manner that has made him a delight to correspond with over the last couple of months. We asked Amanda Maynard of The Wine-ing Woman if she would be interested in co-blogging with Us. We've been following Amanda on Twitter for awhile and admire her great enthusiasm for wine (and the Bruins). She has a lovely, approachable writing style that charms. Lucky Amanda drove down to Travessia to taste the wines (and a barrel sample, a very cool bonus) and then passed on her notes to Us. Here are our collective reviews:
Vidal Blanc, Travessia 2008 (sample, winery sells for $13)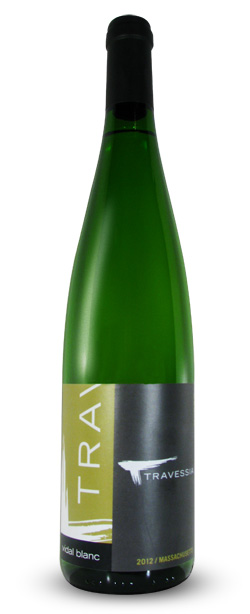 She said: Very pale, clear yellow with a hint of green. Green apple, grapefruit, and wet stones when swirling. In the mouth I initially tasted petrol, minerals, a slight chemical-like flavor, reminding me of a dry Riesling. This gives way to tangerine, white table grapes, ripe pear, honey. The wine is very lush and ripe, but not "sweet," rather is very refreshing. Really delightful and interesting. Would be a great to accompaniment to a summer picnic on a hot day.


He said: Pale in color, but quite bold on the nose. A lot of Sauvignon Blanc characteristics on the nose, with some pretty strong apple. My first thought upon sipping was "juicy." There is certainly evidence of residual sugar, but in no way is it overpoweringly sweet. Great acidity that lingers in the finish. This would be a great hot afternoon wine. My favorite of the three. It's interesting how much Vidal Blanc We have had since we started this USA project. I definitely had not even heard of it, much less tasted it, and I don't think I have had one I disliked yet.

The Wine-ing Woman said: Vidal Blanc is probably my favorite locally grown grape because of its ability to survive the colder weather along with the similar taste and wine structure to my beloved Riesling. I gotta say, this one does not disappoint. It looked very pale and clear in the glass, but on first whiff, it showed up big. I got a whole lot of everything, but apple and pear showed up to the party pretty early. I'm pretty good friends with them, so I was on board. It smelled really fresh and clean and I was pretty eager to dive in. Then the apple and pear party moved to my tongue. Oh boy. This has some serious structure and acidity which isn't shy one bit. The fruit is extremely ripe, but not sweet (bonus points!). The finish was kind of like lingering apple juice. Out of the bunch, this was my favorite by far. I'll take a few more bottles, please.
UnOaked Chardonnay, Travessia 2008 (sample, winery sells for $14)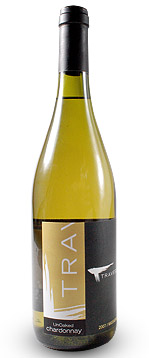 She said: Golden yellow and bright. Would not have guessed the wine was unoaked if the label didn't say so….on the nose is plenty of butter and caramel. Flavors of apple, lemon curd, and creme brulee with a mineral background. Fairly light bodied and with mild acidity. Easy drinking and fairly uncomplicated, which is reflected in the reasonable price. Would enjoy as an aperitif.


He said: Bright golden, it looks very much like a Chardonnay. Grassy on the nose, with buttery oak. It's surprising to me that this is unoaked. Butterscotch-y in the mouth. A little light in the mouth and not much acid…the structure is a little weird, but the flavor is top-notch. If there was a little more weight and zing, this could be a really great wine.

The Wine-ing Woman said: On first look, it's got a straw/golden color, which is kind of what I'd expect. It is slightly aromatically challenged in comparison to the perfumy Vidal, but I got some good green, planty thing going on. Even though this is unoaked, I did kind of get a buttery thing on the nose, so I don't know if my brain was tricking me or if it was really there, but it's absolutely not off-putting (and it's not present on the palate). The palate was slightly less acidic up front than I had expected and a little thin, but not bad. Having had the previous vintage, that carried more of the acidity that I love so I was expecting something similar. However, it's still really good. Not exactly my style, but it's definitely appropriate in many situations. It would be great for beginners that are scared of wine but I think it would also pair wonderfully with some lighter fare (I'm eying a little baked Haddock…).
The Bastard Rosé, Travessia 2008 (sample, winery sells for $14)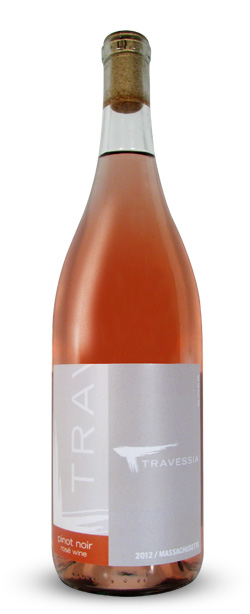 She said: Deep salmon, orangey-pink. Fairly quiet on the nose, with some subtle soapy, powdery roses scents. The sweetness is subtle too, although the wine is off-dry. Initially tart in the mouth and then mellows out to a soft finish. The wine is confusing and hard to pin down. Seems out of balance. (And, yes, it's not my mother's rosé, as the label claims…she's more of a Domaine Tempier woman, as am I.)

He said: Interesting color, it almost looks self-illuminated and kind of metallic. Hmm, the nose is difficult for me and it definitely doesn't smell like any other wine I have ever smelled. Maybe hints of strawberry Jolly Rancher? It's acidic and tart in the mouth. I had some when We opened the bottle last night and I actually like it much better today. The little bastard has settled down a little. This is a really tough wine for me to describe. I don't love or hate it, but I prefer the Chardonnay and Vidal Blanc. 

The Wine-ing Woman said: I really love this bastard. He's a little tricky and deceptive, but I'm into it. Let me explain. I popped the wine, poured, and noticed these slight bubbles in the bottom of the glass. None of the others had this, so I was pulled in. The color is kind of pink but more of an orange/copper shade, so right off the bat it's getting interesting fast. Then, there's the nose. Depending on what I focus on, I'm getting either bubble gum or a cinnamon and Christmas spice thing going on. Such an interesting side by side bunch of scents. The palate is filled with ripe strawberries and solid acid and structure, but the acid is different than that in the Vidal Blanc. This is like a secret, concealed acid. It didn't strike me the whole way through, but on the finish, it showed up and left my mouth watering, craving another sip. This bastard, like I said, is deceptive but I'm pretty into how it's done. It's my runner up behind the Vidal Blanc.

9 down, 41 to go…
Summary

We said: Wow: nine states! Feels like an accomplishment, all this Slurpin' We've done. Big thanks to Marco and Amanda for playing along with Us on this project We love so much…you both were kind and generous collaborators. The Vidal Blanc was delicious. We were marveling about how interesting it was to have a new favorite grape varietal that three months ago We had never even heard of.
So what's in store for week ten? Yikes, We don't know yet. It's easy to get behind on the long distance coordinating, corresponding, and wine buying/sampling. Whew. We're in talks with some great people in North Carolina, Ohio, Connecticut, Arizona, Arkansas, New Jersey, and Virgina. There is a lot of enthusiasm out there about the project, which has been really gratifying for Us. Thanks for joining Us and, please: join Us! If you live in any of those states that aren't filled in on the map above and are interested co-blogging, send Us an email, Tweet, or comment your info. It's fun.
Previously on USA: Georgia, Iowa, Kentucky, Michigan, New Mexico, Pennsylvania, Texas, Washington