Every state in the US produces wine. Why not taste them? For 50 weeks We will do just that…welcome to the United Slurps of America. Week four. It's Texas, y'all
What has become a recurring theme in this project reared it's head again: damn it's hard to get wine shipped from one state to another. United States of Prohibition? That said, our big thanks to Bill Elsey (with the lofty credentials of CS, CSW, and Manager of Wine Sales) of Mandola Estate Winery for being so easy to communicate and do country-wide shipping with. Also. Texas wine growers, wine makers, and drinkers of local juice: you have an incredible advocate and ambassador named Denise Fraser. Denise picked up on our USA:TX quest on Twitter and immediately offered her help in making introductions and playing go-between. After our initial paltry (read: nothing) response from Texas wineries about getting bottles shipped to Hollywood, Denise worked her magic. We plan on reviewing more Texas wines in our Wines of Note series this week. Thanks, Denise!
We're also very pleased to have not one but TWO co-bloggers who virtually tasted with Us. (Insert "everything is bigger in Texas" phrase here.) Ben Simons of Vinotology.com and Jim Wilkerson from VINEgeek.com both signed up for the fun. Check out their own wine writing shenanigans over at their blogs. Ben has a funny, smart must read every week "The Good, the Bad, and the Ugly," (cue Western music here) that always makes Us smile. For Mourvèdre lovers or learners, Jim dedicates each Monday to the grape, offering a thoughtful, easy to read review that always includes a "free association" picture to sum the wine up. Ben and Jim are also prolific and often funny Tweeters–follow them, read their blog, say hello.
[

Him speaking, for this entire paragraph] I am from Texas. I have been in California for almost 20 years, but every memory of my childhood is from Texas, my family is in Texas, and it is a place I (try to) visit at least once a year. I have had some pretty good TX wines and some godawful bad ones. The last thing I want to do is bad mouth the state that I grew up in, so I hope these wines are good. Also, there is something to the notion of "Southern Hospitality." Denise Fraser, Bill Elsey, and the guys from Vinotology and VINEgeek have been very helpful and a pleasure to work with, and we are honored and grateful. So now, we're fixin' to taste some wines, ya'll.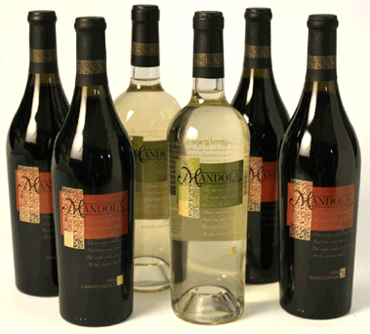 Vermentino, Mandola Estate Winery 2008 (sample, $18 at winery)

She said: Pale yellow straw (how many times have I noted this?). On the nose: hit of alcohol, but behind it very floral like a Southern Rhone and then the citrus acid of a Sauvignon Blanc. Lemon leaves, high acid, some minerals, herbaceous, green…very quenching. Ends with a bite, wish the transition was smoother. That said, very enjoyable and a nice match to our spicy shrimp taco dinner. Hot day, spicy food–it matches well.


He said: Very floral on the nose with a little bit of heat. I would almost guess this to be a viognier. It also has lemon and citrus on the nose. On first sip I was confused because, despite the nose, it is crisp like a Sauvignon Blanc. This wine is actually the direct middle of Sauvignon Blanc and viognier; characteristics of both, but distinct. Lemon, grapefruit and minerals on the palate, and a small amount of electricity; it's igniting my fillings. Am I detecting pepper? I don't think I have ever had pepper on a white wine, but I am getting it in the finish of this one.  I love Sauvignon Blanc and kinda dislike viognier, but this wine is a good happy-medium.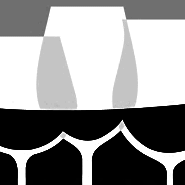 Vinotology said: I've actually had this wine before, and have enjoyed it.  Mandola produces a number of wines from Italian varieties that are uncommon here in Texas, and this is one of the ones that has been getting quite a bit of attention.  At first I wasn't getting a whole lot of definition on the nose, but after I had let it breathe a little bit it really opened up for me.  I got a lot of herbal and mineral aromas, along with some pear and a little bit of peach.  The palate had some minerality with some great citrus components and acidity.
VINEgeek said: Somewhere in between typical Sauvignon Blanc and Chardonnay in color. A bright, juicy nose: a lot like Juicy Fruit gum, in fact, (even the little foil wrapper). Plus a bit of pineapple, perhaps. Nice and crisp on the palate, bringing grapefruit and more pineapple, but not full-on pineapple, more like if you had a fruit salad and the last piece in the bowl was a piece of pear that had been soaking up the pineapple juice at the bottom of the bowl. Something like that. It finishes crisp and clean with a hint of green/grassiness, leaving you wanting another sip. I had pretty low expectations, but this is very solid white wine that I'd be happy to drink again. Definitely one for me that would surprise people in a blind tasting. B/B+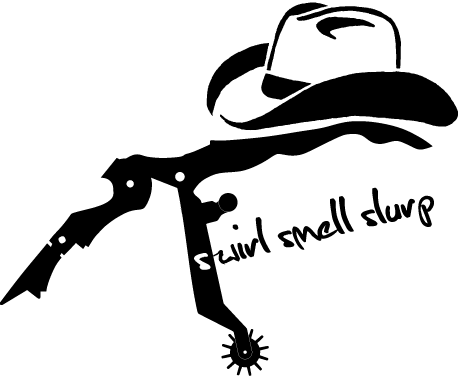 Montepulciano, Spino, Mandola Estate Winery 2008 (sample, $26 at winery)

She said: The color is beautiful: deep, bright ruby catching every glint of light. On the palate: it tastes like grapes. Beyond this initial thought I also sense dark cherry fruit, fresh acidity, cocoa powder texture. Very long, dusty finish. The texture is chalky–and I enjoy this. The acid makes it good with food. Not very refined, but quite enjoyable. Overall reminds me of a basket of dark Bing cherries from the Farmer's Market that still have a bit of orchard dust on them.


He said: The color is a vibrant deep red-brown that is shiny and reflective; beautiful even to a color-blind person like me. Earth, dark cherry and some cola on the nose. Maybe a little too much heat in the nose too. Tart cherry in the mouth. Initially I said (imagining the drinking process as 100% from sip to swallow), "1st 30%-not so good. 2nd 50%-great, creamy and long. 3rd 30%- awesome aftertaste." I wanted to draw a diagram (I am an architect after all) but I am too tired and approaching drunkenness, so no.  After opening up, the 1st 30% has calmed down a bit and is robust and fruity. It tastes like grapes. Which made me think about all the wine reviews I read; no one ever says grape. Why is that? I actually really like grapes, but it seems taboo (or something) to say that wine tastes like grapes. Anyway. This wine doesn't taste like grape juice, but it is very much of grapes. There is maybe a little too much heat in the finish, but it is otherwise tart and nice throughout.

VINEgeek said said: It smells like a Tuscan wine with its dusty cherry fruit and a sharp earthy, herbal quality. But there is also an aroma that I can't really describe, but I that associate with not-ready-for-primetime wines I've tasted in many a tasting room in Texas and elsewhere. On the palate, I get more Sweet-Tart red fruit, sort of like a two parts cherry, one part cranberry blend. Medium-bodied and smooth-textured. It's totally drinkable, but not something I'd seek out again. C
Vinotology said: This is another wine that Mandola makes that you really don't see from other wineries in the state right now.  This may well be the perfect Italian food / Texas wine pairing.  The whole time I was tasting it, I kept thinking about how much I wanted some Spaghetti to go with it.  The nose really hits you with cherries and black pepper and spices, along with a little bit of cedar.  The palate is well balanced, with more spices and red fruits, as well as some earthiness.  There is a perfect amount of acidity on this wine that makes me crave food with it.
4 down, 46 to go.

We said: Over the holidays We took a three week road trip to Texas (meandering is our way). We spent a day doing a tasting room tour in Grapevine, Texas with (His) family. The highlight wine of the day–Austrian (from a sister city of Grapevine). So, what a relief and a pleasure to have a Texas tasting that We enjoyed. Cheers–this was a fun one and with such great company. We also feel compelled to take note of the labels (We're designers, We can't help it and end up spending a lot of time discussing it)…not our style but lovely and elegant. Also, We had fun with the phonetically enhanced tasting notes sent with the bottles. He really didn't know how to say: mon-tae-pill-CHAH-noh (even though He took two years of Italian in college).
VINEgeek Summary:
I hope that the "not-ready-for-primetime" comment doesn't come across too harshly, because the Vermentino proves to me that they know what they're doing at Mandola. All-in-all this tasting showed me that I shouldn't be so dismissive of Texas wines. And I'm doubly excited that I found a very good one so close to home (Mandola is about 20 minute drive from my house)! Thanks to Swirl Smell Slurp for inviting me to participate and waking me up to wines in my own backyard. Cheers, y'all.
Previously on USA: Michigan, Pennsylvania, Washington