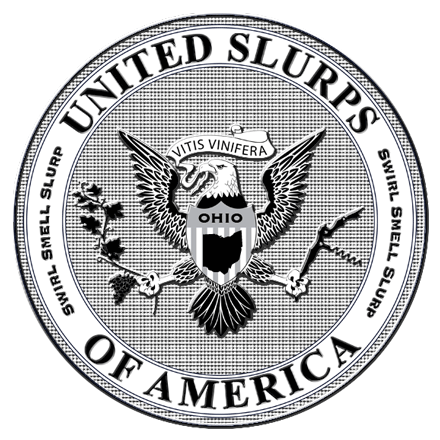 Every state in the US produces wine. Why not taste them? We're doing just that…welcome to the United Slurps of America. It's our 11th stop on the tasting tour: Hello, Ohio.
Social networking has become key to the coordination of this project (and, surprisingly, it takes a lot of coordination). One state leads to another via recommendations and insights from Facebook friends, Twitter followers, and reactions to previous posts on the Swirl blog. Beyond tasting local wine and in some cases grapes We've never heard of (Chambourcin? St Croix? La Crscent?) We've also "virtually" become friends with an enthusiastic bunch of fellow wine adventurers.
After slurping Kentucky with Kevin Keith (of the terrific Under the Grape Tree blog) he suggested we contact Michelle of wine-girl.net in his neighboring state Ohio. We looked up Michelle's blog "My Wine Education," and were delighted with its insights into local wineries, tasty cocktail recipes, and reviews of all things liquor: bottles, books, and shops. We quickly sent her an email: Want to slurp Ohio with us?
Michelle jumped on board the project and came with a list of recommended wineries: Harmony Hills Vineyards, Kinkead Ridge, Firelands Winery, and St Joseph's Winery. Next step: contacting the wineries. Nancy Bentley of Kinkead Ridge promptly replied to our inquiry: "What a fun idea! There are people in Ohio that will tell you we are making the best wine (vinifera) in the state…Sadly, all our wine is currently sold out!" Too bad. But great for them…it's wonderful to hear that small, regional wineries are thriving.
We received no response from Firelands or St. Joseph's and were getting nervous, but then word came from Bill Skvarla of Harmony Hill. Bill was equally enthusiastic about USA and offered to ship Us some wine. The timing was also propitious as the winery was reopening for the season over Memorial Day weekend and he was pretty sure Michelle and her partner Kevin were going to come by. The timing delayed our post a couple of weeks, but the wait was worth it. (We have come to realize that Our original tagline of "Every state in the US produces wine. Why not taste them? For 50 weeks We'll do just that…" has become unrealistic. We're still going to taste every state, but it's going to take longer than 50 weeks.)
Here are our collective reviews:

Photograph of Harmony Hill Vineyards, taken from a hot air balloon showing vineyard, winery, and entrance to their cave.

"Aria," Seyval Blanc, Ohio River Valley, Harmony Hill Vineyards 2009 (sample, $12)

She said: Very pale and translucent salmon pink. On the nose: some wood, ripe pear, fruit punch-like. The flavor reminds me of old fashioned fruit salad–the kind that comes in a can with heavy syrup that my hippie mother would never let me eat. It is not as cloying as the canned fruit and has a nice acidity to keep the cloying factor in check. Honey dew melon, tropical. Serve ice cold on a hot day.


He said: Pinkish / Salmon colored. The nose is a cross between a rosé and a Sauvignon Blanc with subtle oak hints of Chardonnay. Not overly sweet (which I suppose is the reason it's called semi-sweet). Nice acid to counterbalance the sweetness. Maybe a little cloying, but totally nice. Super chilled in the backyard on a hot, sunny afternoon; that's when I imagine this wine to be perfect.


wine-girl said: First off, this wine is best served very chilled. Harmony Hill is great at making wines that should be enjoyed on their patio or yours on a hot summer day. Once this is chilled down, this is an overall enjoyable wine. There's a little too much oak for me, but at the same time, if I even see an oak tree, that's too much oak. I'm probably a poor judge. That said, I sipped it during a party on my patio and it was a huge hit.
"Concerto," Vidal Blanc, Ohio River Valley, Harmony Hill Vineyards 2008 (sample, $11)

She said: Very pale, almost clear yellow. The nose is not appealing: vegetal, funky, over-cooked green beans. It's hard to get past. But in the mouth the wine is really lovely: crisp, light, slightly effervescent. It's a semi-sweet wine, but like the "Aria," is not cloying. Candy-like fruit flavors, Juicy Fruit gum, and applesauce. Too bad about the funk on the nose, but a delightful wine. I'm will to stop myself from sniffing before I slurp. Which I want to do a lot of.


He said: Gold-yellow corn silk in color. Ugh, weird nose. Vegetal, green beans, funky and gross. It makes me not want to taste this (and We discussed if perhaps the bottle was bad). But, wow, no hint of the nose in the mouth. In the mouth it's bright and lively. Sweet with just-right acidity. Apples. The only problem is when I smell it while sipping. If the nose wasn't so strange, this would be my favorite of the bunch.


wine-girl said: Without a doubt, this is currently my favorite HH wine. I know we left with this as a sample, but we also left with a bottle we paid for. We love this. It's sweet, but not that candy-sweet that a lot of French-American hybrids can have. This is, in our opinion, perhaps the perfect hot-day-patio-wine.  It's full of peaches and pears, and tends to bring on a relaxed happy feeling no matter how hot the afternoon.
"Rubato," Chambourcin, Ohio River Valley, Harmony Hill Vineyards 2008 (sample, $14)

She said: Very purpley red and opaque. On the nose reminds me of Cabernet Franc–has a hint of vegetables. Also some oak, but more than anything else: cherries. The wine is tart, like unripe plums, some earthiness, baking spices. But mostly tart, dark cherries. The acid is nice and I imagine it would be a great food wine.


He said: Purpley. Nice nose. I could smell it as soon as it was poured. Black cherry and dark fruit abound. It's a little light in the mouth. Some spice, all black cherry. Long smooth finish. I've never had this grape. I just read that Karen mentioned duck (or Kevin did roundaboutly as to not offend) and now I want duck confit with this. Maybe we should go to Canelé tonight. I like this wine.


wine-girl said: Ah, chambourciraminette and vidal. This sets them apart, surprisingly, from many of the local wineries that are focusing (and in some cases struggling) with growing vinifera. If you like French-American hybrids, you'll enjoy Harmony Hill. I admit we're partial to this wine – we helped harvest the grapes. It's got nice spice and black pepper on the mid-palate with a lot of black cherry. The Rubato has a light finish but that seems pretty typical for the chambourcins in the Kentucky / Ohio/ Indiana tri-state region. Kevin thinks this wine would be nice with grilled dark poultry. (I think he's trying to say "duck" without offending me.)
"Rhapsody," Cabernet Franc, Ohio River Valley, Harmony Hill Vineyards 2006 (sample, $14)

She said: Ruby, garnet color. On the nose: some mild wood, spices. Tart in the mouth, clean finish. Not a lot of fruit anywhere; the wine seems to be mostly about structure. Maybe elderberry? Can't quite place it. That said, very enjoyable in its texture and acidity. Another good food wine.


He said: Red-maroon, totally different looking from the Chambourcin. Berries on the nose. This one is also light in the mouth. Nice, totally drinkable but hard for me to decipher. Cherries and berries. The bottle lists "black currant" and I realize that is another flavor I can't really recall. An enjoyable bottle.


wine-girl said: This is a cabernet franc that really surprised me. I'm not really a fan of cab franc, but I enjoy this one. It's got a lot of big fruit up front, almost assaulting you. The finish has a lot of sour (maybe bitter?) cherry. Happily, there is very little greenness, which makes this an approachable cab franc. It has light tannins and is really drinkable right now. We tend to take out time getting to wines, and I wouldn't worry about the drinkability of this wine if it took us a year to get to it.

11 down, 39 to go…
Summary:


wine-girl said: HH is great because the winery itself is all about atmosphere. Kid-friendly, picnic-friendly, and dog-friendly, a great weekend evening can be spent hanging out at the vineyard listening to amazing acoustic music, chatting with other wine & music lovers, and enjoying wine by the glass.

We said: A clink of our glasses to Michelle for tasting along with Us in our slurpin' tour. Her Memorial Day weekend winery crawl sounds like a terrific way to relax and enjoy what Ohio River Valley has to offer.
Also, a thank you to Nancy Bentley of Kinkead Ridge. We're sorry to not have been able to sample Kinkead's wines, but our palates have been piqued. United Slurps of America: Ohio, part deux?
Finally, a big cheers to Bill and Patti Skvarla and their staff at Harmony Hill Vineyards. These are good folks. We poked around the internet and were delighted to discover that in addition to producing award winning wine (Harmony Hill's 2008 Rubato took home a Gold medal and the 2007 Refrain took home a Bronze in the 25th Hilton Head International Wine Festival) the Skvarla's are dedicated to protecting the bucolic countryside of the Ohio River Valley. The National Wildlife Federation has certified a significant portion of their 70 acre property as an official Backyard Wildlife Habitat site, protecting the diverse and abundant wildlife that live live and nest on the property. When our virtual tasting tour becomes an actual one, We're making it a destination.
(All photos from Harmony Hill's website…check it out for more sweet shots.)
Previously on USA: Georgia, Iowa, Kentucky, Massachusetts, Michigan, New Mexico, North Carolina, Pennsylvania, Texas, Washington