Every state in the US produces wine. Why not taste them? For 50 weeks We will do just that…welcome to the United Slurps of America. Week seven: it's Kentucky.
More noted for Bluegrass and Bourbon than wine, Kentucky was one of the states that We had absolutely no idea what to expect. Both of Us being big fans of Maker's Mark, We knew they could produce a good whiskey. But wine? We didn't know where to begin. Lucky for Us, Kevin Keith, of the wonderful Under the Grape Tree wine blog, contacted Us a few weeks ago, expressing his interest in the Slurpin' USA project. He is well versed in all things wine and had great insight on Kentucky. We thought this might be one of the states handcuffed by archaic, inane wine shipping laws, but Kevin got the wines to Us safely (and hopefully legally).
Here are Our takes on the wines, with our terrific co-blogger Kevin chiming in. It's Our own little 3-stop Kentucky Bourbon Wine Trail, featuring Elk Creek Vineyards, Jean Farris Winery, and StoneBrook Winery.
Vidal Blanc, "Kentucky Blue," Elk Creek Vineyards 2006 (sample, winery sells for $9.99)

She said: Golden pale yellow color. On the nose: lime, unripe pear, wet stones, green herbs–parsley, and a saltiness. Can you smell salt? I do. In the mouth there is a lot of acid, making it fresh and lively. Again green notes: like fresh cut grass mixed in with the richness of pear. Has a silky, creamy mouthfeel. I imagine this is a terrific food wine with its mix of acid and lush fruit. Reminds me of a fruitier Muscadet or a Picpoul. Can imagine enjoying the wine with oysters, ceviche, sushi, squash blossoms stuffed with ricotta, arugula salads…the wine makes me hungry. Great bargain for $9.99, would buy it by the case for summer–if I could find it in California.


He said: Apple, melon, pear and cut grass on the nose. In the mouth it's a mix of creaminess and high acid, which I'm not really used to. But, wow, it's really good. There is also some spice, but not the typical spices; maybe mustard seed or dill. Would be great on a warm day with a salad or seafood in the garden. Really, surprisingly good.

Under The Grape Tree said: Yeah, I know this is sweet.  A bit of an indigenous take on Riesling, this hearty white has some honeyed apple and pear notes, some spicy mineral, and a bit of white flower.  It has some acidity to it, and of course, what many folks note as a "foxy" character – a bit wild or feral quality, as does most grapes from these parts.
Viognier, Jean Farris Winery 2007 (sample, winery sells for $19.00)

She said: Golden yellow and appears thick on the swirl. On the nose the wine is very floral and rich like peaches and cream and an Orangesicle with some mineral undertones and a big waft of honeysuckle. And is that a hint of corn syrup? We talked it over (breaking our "no talking" rule–yep, We both get corn syrup.) The mouthfeel is lovely, creamy, and viscous. On the palate the wine is very floral with apricot and a dry, stoney finish. Reminds me of burleed grapefruit. There is a nice balance of fruit/acid/minerals. I imagine this is another great food wine. It manages to be rich but with a clean, fresh finish. Love it.

He said: It seems as though every Viognier I am tasting lately is testing my aversion to the varietal. This wine is slightly cloudy and very fresh on the nose. Floral notes, apricot…it smells like Viognier. There is also some heat on the nose and I just looked to see the wine is 13.9% alcohol. In the mouth there is nice acid, again mixed with creaminess, oak is definitely present. It's very creamy. It's full-bodied, balanced; whoa, I love it. I'm tasting corn tortilla chips. Odd, but totally there. That said, this wine would be great with Mexican food, maybe even nachos. Exceptional, I totally love it.

Under The Grape Tree said: Not quite that of the Rhone, but the general characters of peach and honeysuckle are present, as is a bit of orange blossom, apricot and mineral.  The foxy notes are there too, but with some needed restraint.  A surprising white wine with some body and balance.
Cabernet Franc, "Estate Bottled, Ohio River Valley," Stonebrook Winery 2008 (sample, $couldn't find price)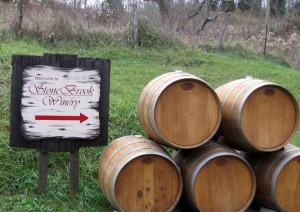 She said: Deep, pretty garnet and translucent around the edges. On the nose: minty, green peas and asparagus with smokey cedar notes. Hefty swirls blow off some of the vegetal characteristics. The wine is quite sharp and tart with dark cherry flavors. Has a freshness, but also a chemical note like bing cherry air freshener. The aromatics also remind me of the botanicals of gin. Medium, soft tannins. I thinks it's a really interesting wine.


He said: Hmm. This smells like Vick's Vap-o-rub. Mint & eucalyptus with some tobacco thrown in. In the mouth there are flavors of fruit (cherry, blackberry, raspberry) in this very juicy wine. It's light, but there is some presence in the mouth. Not really into it. I can't really say that this is a "bad" wine, it's just not for me. This is another thing I love about doing this project; I am learning about wine in general, but also figuring out which varietals I enjoy from a state I wouldn't even assume produces wine.
Under The Grape Tree said: Being a huge Cab Franc fan, when good friend Terry Shumrick – winemaker for Stonebrook – told me he had a Cab Franc made from grapes grown in Kentucky, I thought he was crazy.  Then he told me the price and I thought he was a lunatic to boot.  Though it is not all that tannic, nor does it have a lot of body to it, it is really drinkable, with smooth blue fruit notes and hints of spice and mocha.  The tannins are soft but firm, and the finish is really nice.  And it is minus all the green bell pepper character you get in a lot of cheap – BAD – Cab Francs out there.  This is a really nice find, especially from Kentucky.
Summary

We said: First off, a big thanks to Kevin for supplying and shipping Us the wines to sample. He also sent Us background information on the wineries and insights into the growing regions of Kentucky. Wineries and Winegrowers of KY: this guy is a great advocate for your state. It was also a treat to share tasting notes with Kevin. We've been a fan of his blog long before We started our own. Check it out…frequently.
A note on design: before tasting any of the bottles, We both commented on how much we liked the look of the "Kentucky Blue" bottle. We had a few critiques exchanges on how it could be better, mostly the relationship between the large antlers and the band beneath with the smaller antlers. And this is the point We'd really like to make: We'd show you, our readers, a picture of the bottle and the two others We tasted, but We couldn't find any bottle shots on the web, which, if you've been reading this series, know is a bit of peeve of ours. We want to give our readers a visual–winerys: put Hi-Res bottle shots on your websites! (The images above are from: The Bluegrass Bride, Designs by Lynnea, and dhecker2000–thank you.)
Previously on USA: Georgia, Iowa, Michigan, Pennsylvania, Texas, Washington