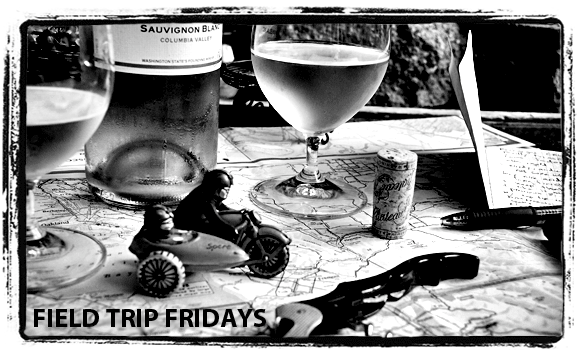 We typically enjoy wine at our homes, at friends', or at a handful of our favorite dining spots. It's a routine we love, but we decided we should branch out–there's a whole lot of wine to drink out there and a whole bunch of places to slurp it. And it's a perfect excuse for Field Trip Fridays.
Last Friday we did a Culver City crawl, starting at Bottle Rock. It was about 2p when we got there and the place only had two other tables occupied. The interior is a bit stark and reminded Her of a chain restaurant, like Chili's or Red Lobster or something like that (not that she has ever been to those places); a bit too clean and generic. But the server was all smiles and sunshine and immediately made us feel welcome and let us know how the place works. It's really a great idea: Bottle Rock will open any bottle they sell and serve it by the glass, you just have to order two glasses. Cameo (our sunny server) also offered to discount wines which had been opened the night before. We enjoyed two different whites (reviews below), a delicious butter lettuce salad with candied kumquats (misspelled on their menu), a good truffle grilled cheese sandwich (more truffles, please), and a Reuben (Her first ever).
We moved down the street to Ford's Filling Station. It was the first time either of us had been there. She knows Ben Ford from way back when he was a newbie at Campanile and sees him at the Farmer's Market. The place is very comfortable, like the hotel lobby of western hotel, complete with upright piano. Were we on the set of Deadwood? The menu looked really delightful, be we were still stuffed from Bottle Rock sandwiches. We decided bubbly would be perfect and enjoyed a glass of Schramsberg. Refreshing. We didn't take notes, we just sipped and smiled.
Next door is Fraiche, but unfortunately (and why, why?) they close in between lunch and dinner service. So we stopped in at Kay 'n Dave's, a Mexican joint down the street. Time to regroup…with a margarita. It was happy hour, after all. And how good did those free, warm chips and a delicious fresh salsa taste. The bartenders were incredibly nice and eager to keep the tequila coming. We indulged in a few and then decided a walk around the neighborhood would do us some good.
On the drive back to the Eastside She said, "Wouldn't caviar be nice? Let's go to the Hungry Cat." So we did. It was early still (how could this be? felt like mindnight) so there were stools available at the bar. Danielle is one of our favorite bartenders in L.A. and lucky for us–she was there. Oh, the greyhounds are gorgeous. We started with this refreshing cocktail and moved on to a carafe of Muscadet to compliment the caviar. We were feeling good. This is a nice ritual we're starting, Field Trip Fridays.
Saturday morning came too soon. Advil was consumed. Here's what we tasted:
Maipe Torrontés, Salt, Argentina 2007 $27/9 (Bottle Rock)

She said: The  color is a pale yellow with a hint of green. Very tropical in the nose. If the tasting was blind I would have guessed a viognier, marsanne, roussanne blend. No significant hints of oak, but the fullness and richness of nose and mouthfeel may indicate it. Lovely tropical flavors of mango, guava, and pineapple, some peach. Ultimately light and refreshing on the palate although I initially thought it would be too cloying. Nice long finish–really a lovely wine.


He said: Very apparent pineapple on the nose, but I think I "forgot" to look at the color.  I wonder why?  Light tropical flavors and full-bodied in the mouth. I'm also getting some vanilla and something flowery. To my knowledge, this is my first taste of this grape. Getting a long finish in my mouth (that's what she said).  I have "nice" written twice in my notes.  You would think I never studied architecture; if you ever said "nice", "good", or "I like it" in a presentation it was suicide.  "Nice" means absolutely nothing when you review your notes, I need to know why I thought it was "nice".  Anyhow, I liked it, it was nice and good. 

Sans Liege, "Cotes du Coast," 2006 $34/11 (Bottle Rock)


She said: Very golden and rich in color. Tons of peach and heft in front palate. Finish not as long as I would think for such umpf up front. Oak on nose and everywhere. Not very well balanced–a bit too rich in the mouth with a lack of acid, but this is characteristic of the blend. When comparing to the Maipe Torrontés, prefer the Argentinian wine.


He said: I have an inexplicable aversion to Viognier. I don't mind the taste so much, there is just something about the feeling that reminds me of drinking Boone's Farm in the late 1980′s. Like maybe I'm going to have a fucking piercing migraine very soon.  But I refuse to give up on it, because I hear people rave about it. I got a lot of peach on the nose.  In the mouth I can definitely make out the Viognier, plus peach and pear.  The other grapes balance it, but still very sweet, bring on the headache.
Muscadet, Domaine de la Pépiére, 2007 $31/16/8 (The Hungry Cat)

She said: Took no notes but ordered it purposefully to go with shrimps and caviar. Which I think I remember it did. Of course it did–it's a crisp, dry, stony white. That goes down really easy.

He said: Did we go to The Hungry Cat?  This was after many bottles of wine, some bubbly, a margarita or few… I may have to review this wine later because I have no notes or taste recollection.  The trials and tribulations of having a wine blog; sometimes you get really drunk.