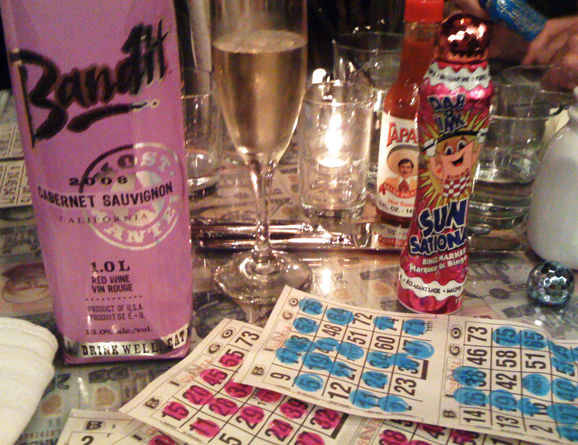 We are in Palm Springs. Its roughly 150º. The pool at The Ace feels like a large bathtub. I love this place.
After soaking in the pool and baking in the sun all day, we decided to head to The Amigo Room for "Sissy Bingo" hosted by the wonderful Linda Gerard. Between games, Linda recounts her time on Broadway and, umm, Deal or No Deal and sings show tunes. She looks and acts exactly as you would expect a lounge hostess in Palm Springs to look and act; extremely large sunglasses, floral shirt under a floral jacket topped off by a floral scarf. She is as delightfully kitschy as the town she lives in.
So, Bingo. I haven't played Bingo since I was in grade school. It sounded like a fun way to pass the time and escape the heat, but I didn't think I would actually like playing Bingo. Somehow, I loved it. It was one of those moments that assured me that I am getting less cynical with age, and I'm able to enjoy silly little things that I would not assume I would enjoy. Like the time that I almost enjoyed Disneyland in 2003.
Oh yeah, and I even won a round! My prize was a Rice Krispies™ cookie and a box of wine.
Bingo!