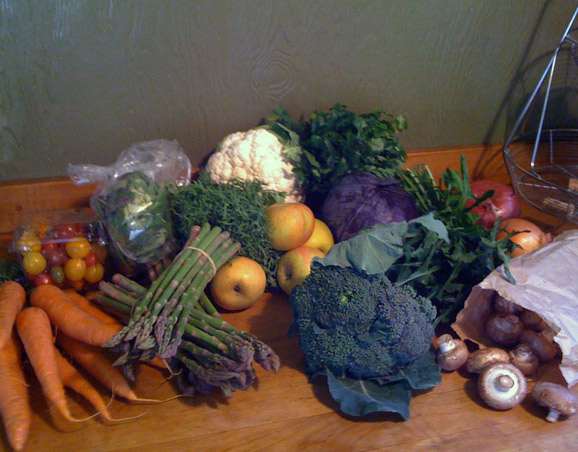 One of the great pleasures of living in Los Angeles (and yes, Doubters, there are many of them) is everyday of the week there is at least one neighborhood farmer's market somewhere in this sprawling city. My new digs are just a few blocks away from one of the best: the Sunday Hollywood Farmer's Market.
On this past Sunday We strolled down busy (and yes, grimy) Cahuenga with a pushcart and a fistful of cash in search of the day's lunch and dinners to come. The pushcart We had in tow was in my garage, which is a kind of junk yard of tenants past. Or so I thought. The rickety black thing only lasted about two blocks before we abandoned it in frustration. It had become a burden with it's wobbly wheels and plus it was way too short, causing Us to hunch over. We figured a homeless person could put it to better use than Us.
We arrived at the market and it was hopping, the partitioned streets spilled over with shoppers, vendors, musicians, an occasional clown (is that what the guy in the Carol Channing wig, red lipstick, and tie dye t-shirt was?), and tourists. It was a terrific scene. (Produce wise, it is a Citrus Fantasy at the market right now–but no need to buy any, my yard has bountiful trees.)
In about an hour We bought as much as we could carry and hungrily headed back home. As soon as We arrived We unpacked our bounty, popped open a bottle of wine, and got to chopping.
For wine, We slurped a 2008 Honig Napa Valley Sauvignon Blanc. It was a perfect match for The Organic Fresh Veggies Beautiful Sunny Day First Weekend in My New House Sitting on the Porch Luncheon. Sauvignon Blanc has become a go to wine for both of Us for al fresco dining on a warm day. The Honig seemed especially apropos for our market driven menu as the winery sustainably farms and uses solar power. I've been a fan of the winery for over a decade, but it was His first time trying the brand.
The bottle was a hit: We both agreed it had pleasant acid, bright grapefruit flavors, and tropical notes. I also detected almonds and a creaminess in the finish which reminded me of apple cobbler. Or maybe it was the apple I was eating? I don't know…but it was a delicious bottle that went too quickly. It was truly a great day and meal.
Later, my (sweet and rather short) neighbor came over, looking very concerned.  Had I seen her black push cart, it was missing from our shared garage. Oops.