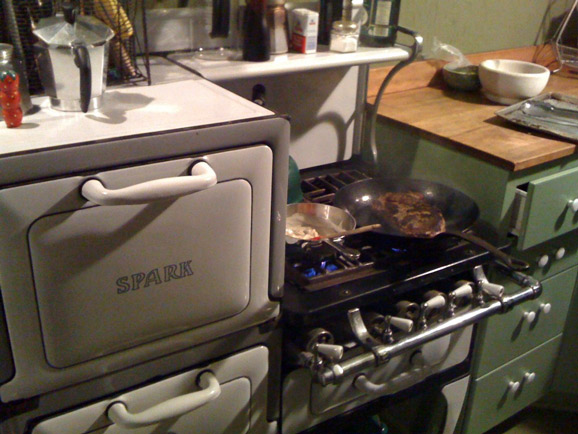 Ever since I received a stack of 1960′s wine pamphlets I've been having fantasies of a Julie and Julia type cooking extravaganza: entertaining friends with meals created from the little books' recipes.
I think my move to a space larger than 100 square feet and the chance to finally unpack dishes, pots, jello molds, etc. has brought out my super-domestic side. Plus, with a stove like "Sparky" how could you not want to entertain?
I imagine donning an apron and popping a bottle of bubbly to sip as I prepare a delightful luncheon for Him and our guests in my new Hollywood home. Everything will be perfect: the meal, the drinks, my outfit. It will be an afternoon of Southern California glamour; a scene out of an iconic Julius Shulman photograph.
I'll try not to get too tipsy while I prepare the main course: baked wine frankfurters. As I busy myself in the kitchen He'll serve our attractive friends a spicy wine aperitif. When it's time, we'll move outside to dine in the backyard, surrounded by fragrant orange trees and the Hollywood hills. There will be oohs and ahhs. And many refills. For dessert I will present a frosty, creamy rosé wine milkshake, but keeping it low-calorie, we must keep an eye on our figures. It will be a fabulous, boozy afternoon. As they leave Our gracious, satisfied guests will ask for the recipes from the delicious meal, which I will happily share with them (and you).
From California Wine Cookery and Drinks:
Tomato-Wine Aperitif
1 bottle California Rhine wine
2 1/4 cups tomato juice
2 drops Tabasco sauce
1/2 teaspoon Worcestershire sauce or
1 teaspoon soy sauce
1/2 teaspoon seasoned salt
1 tray ice cubes
Combine alll ingredients mixing until blended and chilled. Serve in chilled glasses. Garnish with lemon wedges or pickled vegetables on skewers.
Baked Wine Frankfurters
1 pound frankfurters
1 8oz. can tomato sauce
1/3 cup California Burgundy or Claret
2 tablespoons grated onion
1 tablespoons brown sugar
1 tablespoon wine vinegar
1 teaspoon Worcestershire sauce
salt and pepper
Arrage frankfurters in a single layer in shallow baking dish. With sharp knife, make 3-inch lengthwise slit in each frankfurter. Mix all other ingredients in a saucepan, heat to simmering; pour over frankfurters. Bake in moderately hot over about 30 minutes.
Low-Cal Rosé Shake
2 cups fresh strawberries
1/2 cup California Rosé
1 pint low-calorie ice cream
1/2 cup skim milk
Wash and hull berries. Put all ingredients into blender and whizz about 30 seconds. Garnish with sprigs of fresh mint