For the last night of our road trip we stayed in Scottsdale, Arizona. Leaving our luxe spa digs in the strange, natural hot springs town of  Truth or Consequences, NM (see the nudie bath shot on our Facebook page) we opted to avoid the Interstate and drove on skinny country roads through a forest, over a mountain, and on a long desert stretch, finally arriving in Old Town Scottsdale thirsty as all get out.
We chose Scottsdale over any other town or city on our route because of wine: I wanted to take Him to one of my favorite wine sipping spots, Kazimierz World Wine Bar.  Once we were in the general area of Kaz's we parked the car, punched the address into the GPS, and Google Mapped the location to figure out where we were going to stay for the night. We hadn't planned that part in advance; wine had taken precedent over lodging. We picked the closest cheap hotel. Turns out it was a pretty run down and gross Ramada. Don't stay there.
Ah…but Kazimierz…it did not disappoint. That is, once we found it.
Although I had been several times (first with David Lentz and Suzanne Goin as we continued to celebrate, post-wedding and then on subsequent visits to the area…it has become a must-go place), I couldn't remember exactly where the entrance was. The cavernous like bar is speakeasy-ish, but has been around long before it became the now ubiquitous trend. The entrance is off the street and down a dark walkway between buildings. After going in circles a bit, the door was finally found, and it aptly read: "THE TRUTH IS INSIDE."
The bar had been open just over an hour and was pretty quiet, but we were still asked to pay a cover for the night's musical act. There had been top-notch jazz on my previous visits, so we forked over our five bucks each and made our way to a two top near the performance area.
First things first: a beverage.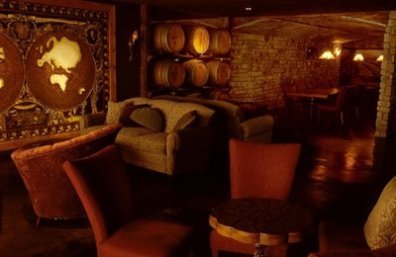 The wine list is gigantic, featuring over 3,200 bottles. He grabbed it and began leafing through. He muttered, "wow," and "geez," and "there is just so much…" I quickly grew bored with this commentary and since he was dominating the list, I scanned the liquor selection. Featured were several vodkas from Charbay, a sentimental favorite of mine that I haven't had since moving from Napa Valley last year.
While he gawked at the wines I ordered a cocktail: Texas ruby red grapefruit vodka with a splash of sparkling water and a lime. Years ago that's how Marco Karakasevic of Charbay had told me how to drink it and I've been hooked ever since. I sipped and savored while He continued to look over the list.
Finally, He decided to focus on a refreshing white wine amongst the many pages. It had been a beautiful, but long and exhausting drive. A crisp, dry, acidic white would provide a much needed pick-me-up. By the time He chose a half bottle of 2007 Brundlmayer Gruner Veltliner, Berg Vogelsang ($27), I had finished my cocktail. Good timing on my part.
The wine was perfect: fresh and crisp with citrus, minerals, and grassy green notes with an unusual white peppery nose that I love. The road weariness was fading. (L.A. people: you can pick up a bottle at Twenty Twenty Wines…unless I buy it all first.)
Next it was food. The menu at Kazimierz's is simple, focusing on cheese, cured meats, and flatbreads, which the menu admits are pizzas, but… "not pizzas as you traditionally know them, these are meant for wine sipping and no, we don't deliver." We chose the generously portioned antipasta plate with serrano, sopressata, prosciutto, cheeses, and olives and the "Willamette flatbread" with crimini and button mushrooms, mozzarella, garlic, and truffle oil. I love forgoing utensils and eating with my hands. Both plates were delicious and slowly enjoyed by us both.
The band began to warm up: two older dudes, one playing a sax, the other sitting at a keyboard. We tried our best to block out the vapid conversation of the young couple on their first date sitting next to us (the blond chick was really working her dumb college student on a cheerleading scholarship stereotype) as the music started. It was futile. We ordered another half bottle of wine, 2005 Tablas Creek Esprit de Beaucastel Blanc ($30), and moved to a cozy couch in front of the band.
Our waitress couldn't find the wine at first, but finally brought us the bottle, admitting she had been looking for a red. "I forgot that of course Côte du Rhônes can be white!" Yes, they can. And this is a great domestic example. I appreciated that Kazimierz had several vintages instead of just the current release. The 2005 is a lush, floral blend of 70% Rousanne, 25% Grenache Blanc, and 5% Picpoul Blanc. Although it has honey, apricot, and spice there is an underlying minerality and brightness that prevents it from being too cloying. It was perfect with our last slices of the fragrant, mushroomy flatbread.
A diminutive older woman joined the band and I knew immediately that it was Margo Reed, whom I had seen last time I was at the bar. She is fantastic. She belts out jazz standards in a deep, rich voice that is entirely unexpected from such a petite woman. We were immediately mesmerized. Later a young harmonica player that was in the audience joined the band for a few tunes. And like Margo said, he was "adorable," and incredibly talented. We sipped our wine and slipped deeper into the couch.
Although getting sleepy, neither of us want to leave the music or the place. We each ordered another Charbay cocktail, but exhaustion took over. We left the bar before the third set. It was a delicious, dreamy end to a long day and a fantastic road trip. Tomorrow we would drive back to my Silverlake cottage.
(Photo of Margo Reed by Henri Hirschfeld, via photo.net)