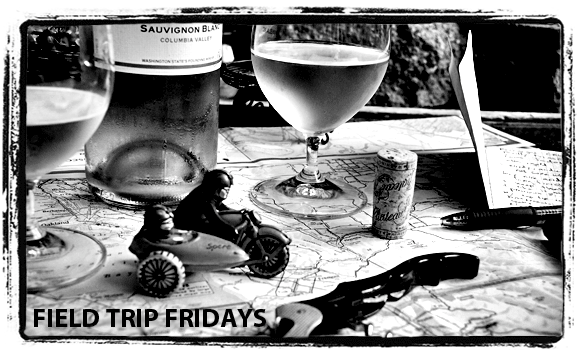 Los Angeles Superior Courthouse
For the past two days I have been spending the 8:30-5:00 time slot waiting to see if I would be picked to sit on a jury. I'm admonished from saying anything specific about the case, so please pardon my vagueness. Today was better and more efficient than yesterday, but it still took the entire day (and, really, why so many recesses?). During one of our "it'll just be 2 more minutes" waits in the hallway I made friends with Juror #30, a cute girl who used to be a computer forensic scientist who now teaches yoga, is writing a book, and something about linux and routing and her new Android phone that I didn't understand. It was now at least 15 minutes into our "2 more minutes" and the discussion turned to food & wine. I was excited and impressed that she had been to Canelé and then she started talking about her friend Jeff who used to work for Thomas Keller, which brought up a story about Her last jury pool that consisted of both TK & Jeff. It really is a small world, and even more amazing how much you can discover in just "2 more minutes."
Given Juror #30′s previous career, I knew she was screwed, she was gonna be on that jury for sure. I knew I was getting out, I knew it. And the reason is because of this exact thing that you are reading. When it was my turn to answer the 9 questions on the sheet, I stated where I lived and then for my occupation said, "Architect & Wine Critic." As soon as it was my turn to sit in the jury box, the prosecutor said,"The prosecution would like to thank and excuse Juror #35." See you later, bitches.
So, I can't speak in specifics about the case. But. Hypothetically, if you are ever in a jury pool for a case involving alcohol, start a wine blog. Trust me.
Las Perla
I thought I hadn't heard about this place yet. But then I remembered Her story about Raul, Her favorite bartender from 20 years ago was opening this place. She seems to know everyone in the restaurant/bar industry and tells me stories of their lineage and which ones She worked with and where and who then opened what restaurant and who was sleeping with who… So, if I remember correctly, Raul was the bartender at Small's K.O. where She used to go with Corina of Canelé everyday after work which was at a restaurant owned by Nancy Silverton, where Suzanne Goin was the head chef and Manfred Krankl was Her boss and George (the owner of Silverlake Wine) was a waiter. And maybe Thomas Keller was a busboy or something.
Where was I?
Oh yeah. So, we met our double-date partners D&M at this new Mezcal place for a cocktail before dinner. D asked his iPhone what made Mezcal different from Tequila and it told us that Mezcal is made from blue agave and is smokier. The menu is written in Sharpie on pieces of cardboard which we all had different feelings about. Also, each of our menus had different items listed which confused me a little bit. We all ordered the Smokey Margarita. The waitress brought our drinks nervously to the table and spilled a little bit on the denim covering my now wet privates, which I easily forgive of a new place working out all of the opening jitters. The drinks were great, as was the crowd at this place. We weren't here for long, but I would like to go back. We will.
Lazy Ox Canteen
This is our second time here. We love it. The menu is dynamic and the chef seems to really love to experiment with food. We brought a bottle of wine but decided to start with a bottle of Torrontes Grazioso, Argentina 2008 for our first course (which also waives the $20 corkage fee). We ordered Yellowtail, Pickles, Octopus and Pig Ears. All really good and paired well with Torrontes. The Pig Ears here are amazing, comparable (and much less spicy) then the ones we had at Animal. We ordered our entrees and all D could talk about was ordering dessert. I had Pork Frites (which came out way, way earlier than everyone else's food. We were warned that they might come out at different times, but I was done before anyone else got their food). D got Braised Beef (amazing), She and M split a Pork Porterhouse with the best whipped potatoes I have ever tasted. And my Pork Frites was great. We opened the wine we bought, Miner Family Stagecoach Vineyard Cabernet Sauvignon 2007 (received as a sample, retails around $60) that was so (pardon my French) fucking good. Creamy and spicy and perfectly balanced and went so well with my Frites. In recent weeks, Miner and Penns Woods are the best wines  I have tasted. There hasn't been a weak (or even average) bottle of the 8 we have consumed from these two producers.
For dessert we shared the Rice Pudding that D had been talking about since the 1st course. I loved it and She hated it. The one thing that we don't agree on is sweets. I love them, She hates them. When I am alone, I eat a Snickers bar. Or, once when she was out of town I ordered both the cheesecake and the chocolate cake at Canelé. Anyhow, I recommend the rice pudding.
Dinner ended with great conversation and a bottle of Spatburgunder Trocken Weinhof Scheu 2007 and talked about our next double-date. We might spend a weekend in Buellton and drink wine from our friend Morgan's incredibly winery, Cold Heaven. And possibly spend a couple of days at a winery that D&M are members of that has a house they can rent for like $90/night. We're in.
As we were leaving a "gentleman" in his 60′s with a young Asian woman on his arm told Her (3 times) how beautiful Her dress was. It is a beautiful dress (and She, of course, looks beautiful in [and out of] it), I concur, but this guy seemed creepy. I looked at him coldly and said, "Yes, it is." We ignored him and he left. Then I remembered the time we were here previously we saw the same dude. Only he had a friend and 4(!) young Asian women on their arms. I think maybe he is a porn producer. I want to sell him a porn title that I think might be fitting for his company: Double PenetrAsian.
The Gorbals
Our last stop was to see our friend Ilan. We were all drunkish at this point, but Ilan sent us out 4 glasses of wine, each different for us to taste. I don't really remember much about the wine but Ilan said, "Oh, you guys have to try this." He brought us out ice cream he had made in the same manner as Mexican hot chocolate. It was chocolate ice cream with a lot of heat surrounded by little graham cracker crumbs. It's interesting that something cold in your mouth can be so hot. She loved it, which due to her hatred of sweets mentioned earlier, is saying a lot. Thanks Ilan, it was delicious.
D&M wanted to go to Karaoke, or dancing, but We were both tired and decided to call it a night. Maybe next time.
This morning we are nursing our hangovers with a nice mimosa with fresh-picked oranges from Her mimosa tree. It's a beautiful day in LA.